Hiking and cycling around Liguria region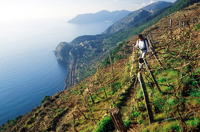 The coastal region of Liguria in north-western Italy is often associated with beautiful beaches, picturesque seaside towns, and gastronomic specialties such as the world famous Ligurian pesto.

Beyond the coast however lies a wealth of natural parks, lush landscapes, hills, mountains and lakes dotted with quaint medieval villages and off-the-map eateries, perfect for discovering in Spring when the days are warm and the crowds of tourists are yet to arrive.

Liguria offers a wealth of well signposted hiking, cycling and horse riding paths linking the coastal towns with the valleys and on to the mountain peaks and cliff tops where free-climbers scour the sheer rock faces, often hanging over the dark blue sea. Rafting and canoeing are other popular pursuits in Liguria and with beautiful landscapes, vine-terraced backdrops, hidden corners and the coastline never more than a day away, Liguria is perfect for the independent minded traveller, whether it be a light stroll or a 40 kilometre bike ride.

Cycling
One of the best ways of discovering the arc shaped region of Liguria is by bicycle. 15 unique itineraries for cyclists and trekkers have been developed to take visitors to every corner of the region, meandering from coast to rural interior, through medieval villages and on to cool mountains and cliff tops. For 2010, a new cycle and hiking route will be inaugurated, built into the old railway and connecting Ospedaletti to San Lorenzo al Mare, a route which is sandwiched between the sea and the Mediterranean scrub. Up to now, this stretch of Ligurian coast has been unavailable for cyclists and hikers because of the railway. The first 8km connecting Santo Stefano and San Lorenzo al Mare will be inaugurated in July 2010. See area24spa.it for more details.

Hiking and Trekking
For those keen to discover the region of Liguria by foot, the Alta Via is a 400 kilometre hiking trail covering the whole of the Ligurian mountain range, from Ventimiglia to Sarzana. Hikers can look out to sea towards Corsica and beyond and admire the spectacular Alpine Ridge. This well-signed trail can be broken into manageable sections or day hikes, parts of which can also be enjoyed by horseback. See altaviadeimontiliguri.it.

Imperia
The province of Imperia offers over 2000 kilometres of well indicated cycle and hiking tracks ranging from easy dirt tracks suitable for families to the more challenging and narrower tracks for the more experienced mountain biker or hiker. See alpidelmareinbici.it.

Savona
Curving West from Genoa to the French border, this stretch of the Ligurian coast is known as the 'Riviera di Ponente' and offers five themed routes called 'cycling by the sea' exploring the natural parks and picturesque landscapes of Val Bormida, Finale, Sabatia and Ingauna. Routes range from 16 to 65 kilometres. See inforiviera.it.

As well as a number of paths and dedicated routes that can be enjoyed at any time if year, Liguria also plays host to some original events attracting cycling aficionados from all over Italy and beyond. The Altare night race offers riders the chance discover the panoramic views and serene atmosphere of the region by night, and Finale's 24-hour race sees groups competing in a 24 hour relay that combines sport with music and entertainment. See 24hfinale.com.

Genoa
Squashed into a hilly terrain, Genoa is an ancient Maritime city offering an insight into Italy's past with a maze of narrow alleyways, church spires and the crumbling remains of the old city's walls. Genoa is an excellent base for combining a cycling or walking holiday with typical Genovese cuisine and hospitality. The province offers a 'bed & bike' guide with various options combining accommodation with outdoor activities and typical off the map eateries.

La Spezia
The world renowned Cinque Terre can now be explored by bicycle with a series of especially dedicated cycle paths offering the most alluring of views. Guests are guided through these five picturesque fishing villages, each section of the route presenting a varying level of difficulty so as to cater for the expert cyclists as well as the more amateur rider. See parconazionale5terre.it.

The Ligurian countryside offers visitors endless opportunities for rewarding excursions through the mountains, coastline, forests and tranquil lakes offering peace and quiet and an insight into the cultures, natural resources and traditions that have left their mark on this unique region. See turismoinliguria.it.

To download cycling routes, visit turismoinliguria.it and select the 'brochure' option from the home page.