Skyros: The original holistic holiday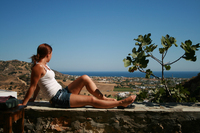 Skyros, the original holistic holiday destination in Europe, has just announced its 2010 programme.

The programme unfolds in Greece, Cuba, Thailand, Cambodia and the Isle of Wight. It is facilitated by a staff of eighty that includes many of the very best in their fields, from writers to psychotherapists and from artists to yoga teachers. Comedian, writer and broadcaster Arthur Smith is just one of them this year.

The numerous courses Skyros offers include life coaching, creative writing, art, music, singing, dance, T'ai Chi, yoga, sailing, windsurfing and much more. Participants can either sample many of them in Skyros island's Atsitsa Bay or, alternatively, focus on one course such as writing or life coaching at the Skyros Centre in Skyros village.

Whatever their choice, all people are all given the chance to navigate beyond old boundaries, explore new possibilities, try new things and acquire new skills. In a world far removed from daily routines, they can also take the opportunity to reassess their life, redefine their needs and re-set their priorities. It was in Skyros that Jimmy Carr, the British comedian, decided to leave Shell and give it a go as a performer.

Sung about by Homer and full of ancient memories, Skyros island, Greece, is an enchanted place. Unspoilt, it's blessed, like Thailand's Koh Chang, with sun-drenched beaches, crystal-clear waters, protected forests and the heritage of the ancient land. Havana, Cuba, is the romantic's dream and Cambodia an adventure into a world of mystery. Close to London, The Grange in the Isle of Wight is part of the charming old village of Shanklin and only moments from its long, sandy beach.

Established in 1979 by Dr Yannis Andricopoulos, a Greek author and journalist, and Dr Dina Glouberman, an American psychotherapist and writer, Skyros pioneered the concept of educational holidays and the holistic approach to life within a community context.

To find out more about Skyros, visit skyros.com.