Reduce your carbon footprint with a staycation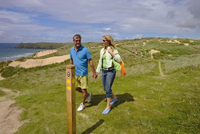 If you need any further incentive to go green and holiday close to home the spectre of airport delays, potential strikes and the length of time it takes to check in and clear security will help you make your mind up!

We British sometimes forget that Britain truly is great and has some fantastic places to visit - from historical sites to breath-taking beaches just waiting to be explored. And by staying within the UK this summer you'll be helping to minimise your carbon footprint and reduce the amount of damaging CO2 emissions released into the atmosphere.

By the time you've finally started to taxi down the runway you could already be unpacked and enjoying one of Haven Holidays' 35 family holiday parks around Great Britain

Haven are committed to stringent eco-friendly policies and has 17 Green Tourism Scheme Awards under its belt for 2010. All the parks hold David Bellamy Conservation Awards – with 33 achieving the coveted Gold standard. Fifteen Haven parks take direct responsibility for protected conservation areas and all play a vital role in protecting and conserving British wildlife - so you can sleep easy knowing you have booked a holiday that is friendly to the environment.

Haven parks are situated all around the British coastline and Devon Cliffs Holiday Park is the first landmark on the stunning Jurassic Coastline – England's first natural World Heritage Site. This spectacular natural setting is a great place to enjoy a walk or for budding archaeologists a chance to go fossil hunting. Perran Sands sits directly on the South West Coast Path with 630 miles of signposted walking for you to enjoy whilst Kiln Park is within the Pembrokeshire Coast National Park, Britain's only coastal national park.

Check out carbon–neutral ways to travel around the park and surrounding areas that won't burden your conscience. A family bike ride means you can take in the scenery while also burning off some calories from lunch - or look for parks that offer horse-riding.

And with a great entertainment package and lots of facilities, kid's clubs and organised activities provided in the cost of the holiday from football coaching to late-night discos – your car will be surplus to requirements and you can relax and enjoy a fun-filled holiday knowing you have helped reduce your carbon footprint this summer.

Early booking deals will be reduced on January 31st so it's worth booking soon to take advantage of the best price offers. At the moment you can book a break from as little as £129 for a three or four nights in superior accommodation for a family of four (available at a wide choice of dates and parks).

For immediate booking and details of the best special offers visit haven.com.