Khmer cuisine in the Cambodian countryside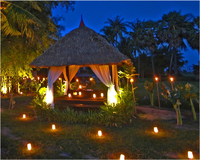 Further enhancing its burgeoning reputation for championing authentic Khmer cuisine, local ingredients and traditional flavours, Hôtel de la Paix has created a unique and beautiful gazebo in the spectacular countryside outside Siem Reap, where guests can enjoy a romantic, torch-lit modern take on the traditional Khmer barbecue.

Surrounded by rolling rice fields, cocooned by the scents of lemongrass and frangipani, a private chef serves a fresh menu of mouth-watering barbecued dishes, from prawn with crushed fresh kampot peppercorn to quail with star anis and wild honey.

Bursting with locally sourced, seasonal ingredients and traditional Khmer influences, this gourmet menu was created by Hôtel de la Paix's executive chef Joannes Riviere - founder of the Siem Reap Chef Association and author of the first French language Khmer cookbook ever published. French-born Riviere is fluent in the Khmer language and has made their cuisine his specialism. Having first relocated to Cambodia for voluntary work in 2003, his intimate knowledge of, and passion for the Cambodian people and their culture infuses his innovative menu designs.

This absorbing new culinary experience begins in authentic style with a short 15 minute journey from the hotel by traditional Tuk Tuk, passing through the buzzing streets of Siem Reap and out into the quietude of the real, rural Cambodia - a picturesque countryside punctuated by rice paddies, clusters of stilted houses, pagodas and water buffalo. On arrival at the beautifully decorated gazebo, guests are greeted by their own personal team of chefs and waiters, before settling down to embark on a remarkable journey through Khmer cuisine.

The romantic gazebo packages start from US$300 for two, including:

- Tuk Tuk transfer to the gazebo (return by private car)
- Private Khmer barbecue dinner
- Champagne on arrival
- A bottle of wine from Hôtel de la Paix's world class wine list

For further information visit hoteldelapaixangkor.com.

Located in the heart of Siem Reap, close to the cultural and historic heart of Cambodia, Hôtel de la Paix is a luxury boutique hotel within easy reach of colourful markets and vibrant nightlife; and just a few kilometres from the breathtaking temple complexes of Angkor Wat, often referred to as the eighth wonder of the world and recognised as a UNESCO World Heritage Site.

Khmer culture is celebrated in every aspect of style and service at Hôtel de la Paix, from the Meric Restaurant, with its seasonally inspired local cuisine to the Arts Lounge, which pays tribute to Cambodian artists; and Spa Indochine, which offers signature traditional treatments. Each of Hôtel de la Paix's 107 spacious, beautifully appointed en suite rooms features chic interiors and contemporary furnishings complimented by intricate wall mountings and handcrafted lamps, creating a balance between modern design and traditional detailing.

Hôtel de la Paix is operated by Ativa Hospitality, an experienced, Asian-based management company specialising in the development and management of independent deluxe boutique hotels. Ativa Hospitality currently manages properties in Thailand and Cambodia with project developments in Vietnam, Laos and India.