Latest technology jetting unit uses Renault Premium chassis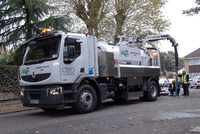 Chepstow based tanker manufacturer, Fuller Tankers, has taken delivery of a new 4x2 Renault Premium Lander 280.18s, through Renault Trucks Essex. The truck's chassis is mounted with specialist drainage equipment to complete the company's latest development, the 18 tonne Fuller Recycler. It is the first of its kind to be manufacturered in the UK.
The unit has been developed by Fuller Tankers to carry out heavy jetting jobs at 250 litres per minute, whilst its automatic cleaning process ensures continuous recycling of the jetting water. With less time needed to refill from hydrants, the unit is more efficient than regular sewer cleaning tankers and uses far less water.
The company had previously built a Recycler unit on a Renault Midlum chassis and Nathan Jones, General Manager, Fuller Tankers, cited positive feedback on this vehicle as a key decision factor when building the new 18 tonne unit: "We were very impressed with the Renault Midlum Recycler which encouraged us to look at the Renault Premium Lander when designing this larger 18 tonne unit. We felt that this was a sturdy truck with a good quality engine and a suitable size for our needs. In addition, its competitive price enables us to becompete effectively in our marketplace. The new Recycler will initially be used as a demonstrator vehicle and we hope to showcase it at a number of exhibitions and events."
Fuller Tankers UK is a leading tanker manufacturer with more than 50 years experience in the UK. Its modern factory produces a wide range of vehicle mounted tankers, including jetting tankers, vacuum tankers, combination units, sludge tankers, street washing, recyclers and jetting equipment. Customers include local goverment authorities and water utilities nationwide. The company also produces specialist vehicles for airport maintenance, as well as road and rail applications.