Beat the winter blues with a city break in Iceland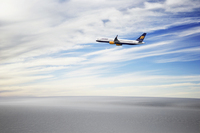 If the cold weather has you singing the blues, Icelandair has the perfect city break to help you warm up, in Iceland naturally! For the month of February, those who book the popular Iceland City Break will receive a free visit to the Blue Lagoon.

This package starting from £269* provides a huge savings of over £200 versus booking the components separately and includes flights from Glasgow, London or Manchester to Iceland, 3 nights accommodations and a free visit to the Blue Lagoon.

The Blue Lagoon is a geothermal spa located in the middle of a moonscape lava field on Iceland's Reykjanes peninsula. Visitors enjoy bathing in warm soothing waters of a surreal blue hue and can relax in one of the facilities saunas. The visit to the Blue Lagoon includes transportation to and from the site and entrance into the facility. While at the spa, visitors can take advantage of the favourable exchange rate and book a massage or skin treatment for a low additional cost.

Icelandair is one of Iceland's longest established companies, connecting the world and Iceland for over 70 years. Icelandair's offer is valid for booking online at icelandair.co.uk until 28th February. Visit icelandair.co.uk or further information on this package. Visit bluelagoon.com for information on the Blue Lagoon.