Experience traditional Holland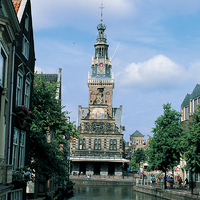 Picturesque Holland has much to offer, and a Mini Cruise break with DFDS Seaways is a great way to get a taste of this cultural country.

Sailing from Newcastle to Amsterdam your break starts the moment you step onboard. Check in to the ensuite cabin and check out the live entertainment, shops, restaurants, bars and even cinema. Arriving in Holland in time for breakfast the next day, you have plenty of time to explore.

Haarlem Mini Cruise – from £88pp
Departs Newcastle on 12/25 February, 5/26 March, 11 April, 30 May, 25 June, 26 July, 29 August, 24 September, 29 October, 26 November, 17 December

A great alternative to Amsterdam, Haarlem is a quaint market city just 20 minutes from the DFDS Seaways' port. Known as the city of flowers it is smaller, more relaxed version of Amsterdam, with cafés, bars, stylish sops and museums, yet retaining much of its 17th century layout. Visit the main square with its 14th century town hall, as well as the impressive 15th Century church St Bavokerk with its immense lead spire. Art lovers will enjoy the Frans Hals Museum with a fine collection of paintings from the Dutch masters, or head to the oldest museum in Europe – Teylers Museum – devoted to science and art.

Prices include 2 nights onboard, live entertainment and coach transfers to and from Haarlem.

Traditional Holland Mini Cruise – from £91pp
Departs Newcastle on 15th May, 20th June and 4th September

Experience Holland, traditional Holland that is – windmills, clogs and cheese! Spend the morning in the open air museum, Zannse Schans, visiting traditional windmills, houses and clog makers. Then journey on to a cheese farm and then on to two of the country's prettiest towns – Volendam and Edam.

Prices include 2 nights onboard, live entertainment, and coach transfers and entrance to the open air museum and cheese farm, plus trips to Volendam and Edam.

Alkmaar Cheese Festival Mini Cruise – from £109pp
Departs Newcastle on 27th May, 8th July and 19th August

Alkmaar's historic town centre hasn't changed really since the 17th century and with its pretty canals, cobbled streets and traditional gabled buildings it creates a fantastic atmosphere for the famous cheese market. Alkmaar's Cheese Festival is one of Holland's most popular tourist attractions. Peruse the stalls, watch the cheesemen bringing their wares on barrows, and taste samples of Dutch cheese. Or explore the restaurants, cosy bars, extensive shopping offering and interesting museums.

Prices include 2 nights onboard, live entertainment, coach transfers to and from Alkmaar.

For more information go to dfds.co.uk/minicruises.