Cleartech increases fleet with new Renault trucks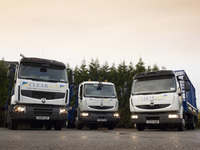 Cleartech Waste Services has taken delivery of a Renault Midlum 240.18 skip loader, a 7.5 tonne Renault Midlum with 20ft steel cage tipper and dump-through tail lift, as well as an 8-wheeler Renault Premium Lander with multi-lift hook lift. The trucks were supplied through Renault Trucks distributor Thompson Commercials Hull and join a fleet of 10 vehicles.
The two Renault Midlums will be used on the company's waste management contract with Vivergo Fuels at the BP Chemical Site in Hull. The Renault Premium Lander will also work on this contract, as well as for a number of other clients.
Scott Gibson, Managing Director, Cleartech Waste Services, says: "We have always had a number of Renault trucks on our fleet and have been impressed with the quality and reliability of both the trucks and the service provided by Thompsons. We also find that Renault Trucks provides us with the most cost effective solutions to our transportation requirements which is why they are always our number one choice.
Recycling is something that we are concentrating on more and more and we have recently made some significant improvements to our recycling plant. These new trucks will help us increase our recycling initiative which aims to minimise the amount of waste sent to landfill."
Cleartech Waste Services is a waste management and facilities company, based in Hull. The company specialises in the management and disposal of many types of waste from all industries, including hazardous and technical waste, total waste management, facilities management, including road sweepers and cleaners, recycling, on site waste clearance, liquid interceptor wastes, vacuum tankers and 24 hour emergency call out. The company employs 50 members of staff and operates on a nationwide basis.