Fresh veg for your freezer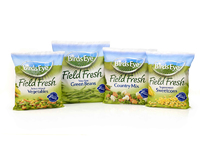 Birds Eye is introducing a new Field Fresh range - a delicious and healthy collection of frozen vegetables guaranteed to make any meal mouth-watering.

Birds Eye's Field Fresh range, which incorporates existing frozen favourites Garden Peas, Petits Pois, Steam Bags and Soya Beans also offers a wide variety of brand new tasty vegetables bursting with flavour and essential vitamins. Frozen within hours of picking to retain their freshness, all vegetables within the new Field Fresh range are packed full of nutrients right up until the moment you eat them.

Vitamins are locked in at the point of freezing to ensure there is no deterioration in quality or nutritional value. Only Birds Eye has the Field Fresh guarantee - they pick and freeze their Field Fresh vegetables on the same day and their experts are on hand to ensure that only the very best veg are selected.

Tasty new variants within the Birds Eye Field Fresh range include:

• Supersweet Sweetcorn
• Very Fine Green Beans
• Country Mix - a selection of tasty Cauliflower, Broccoli, Peas & Carrots
• Select Mixed Vegetables - delicious Green Beans, Peas, Sweetcorn & Carrots

Perfect for mum, the new Field Fresh product range can be used as an ingredient in soups, pasta and pies or as a mouth-watering accompaniment to any dish. This new range from frozen experts Birds Eye offers a convenient and nutritious teatime solution. Field Fresh is a freezer essential for any household and a great way to ensure the whole family is getting their 5 a day.

Birds Eye Field Fresh vegetables are now available nationwide at a RRP of £1.69 for 750g bags. For more information, visit Birdseye.co.uk/Fieldfresh.