Sliderobes shocked by tardy tradesmen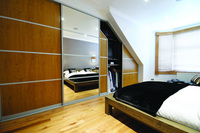 Sliderobes is shocked by the results of a new survey from Trust Mark, claiming that the British spend more than two weeks of their lives waiting for tradesmen.
The survey published by the government-backed quality standard for tradesmen claims that on average 366 hours - the equivalent of 15 days – are spent waiting for tardy tradesmen.
Managing director of fitted bedroom furniture specialist, Sliderobes, Richard McMullan, is shocked by the statistics. As a homeowner himself, he is well aware of the problems, but astonished by how widespread the problem is.
He said, "The poll showed that plumbers and heating engineers, on average, keep people waiting almost an hour. That's clearly not just an occasional problem, but an endemic one. Builders, electricians and aerial engineers fare only slightly better in the poll.
"This is not just irritating to homeowners, but also a huge waste of everyone's time. Apparently, to make it worse, not only do people turn up late but some turn up on a different day, or fail to turn up at all," he added.
Sliderobes, which has been established for nearly 30 years, offers a cast iron guarantee to its customers. If, for whatever reason, their fitters fail to turn up on the agreed day to fit their Sliderobe, they will pay an indemnity of £100. And, should their journey be delayed by road-works or other unforeseen problems, they guarantee to call the customer advising of their potential late arrival.
"This is a system, and promise, that we have had in place for more than 20 years," Richard explained. "And it's clearly much appreciated by our clients. Last year we fitted thousands of Sliderobes, and feedback is in almost every case very complimentary on our standards and timekeeping."
For more information, visit sliderobes.com.