'Buried bag syndrome' is spoiling women's looks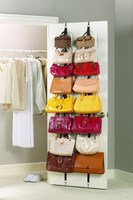 To dress well, women should coordinate their clothing, shoes, makeup and handbags.
But for busy British women coping with cramped wardrobes and tight schedules, that often doesn't happen.
The average woman owns 21 handbags, but according the research by fashion storage experts tszuji.co.uk, most women use just two on a regular basis.
"The problem is that many women don't have anywhere to store their bags properly," says Glendon Lloyd, founder of the storage website.
"Many women shove all their bags in a drawer, hang them off the back of chairs around the house or, worse, bury them at the bottom of their wardrobes.
"This means a lot of bags get forgotten, damaged or lost."
To combat the problem, tszuji.co.uk recommends investing in specially-designed storage to keep your handbags neat, tidy and on display.
The range includes:
Handbag Storage Rack: This clever device hangs over the door of your bedroom or wardrobe. The patented design allows the Handbag Storage Rack to stretch to match door height.
Handbag Storage Rack with Bamboo Accents: This bamboo rack protects eight handbags of various sizes, by storing them on the back of the door. The bamboo accents add a touch of style which sets off your bags perfectly.
Handbag Storage Rack for the Wardrobe: This handy rack hangs from your wardrobe rail and stores a wide range of items including purses, clothes, hats, caps, scarves and more!
Clear Handbag Boxes: Perfect for luxury handbags which need an extra level of protection. These fabulous boxes interlock, allowing you to stack your prized purses safely and stylishly.
"You wouldn't crumple your favourite coats at the bottom of the wardrobe – so why your handbags?" says Lloyd.
"By storing your bags correctly they will stay in better shape and last longer – plus by having them on display, it will make coordinating your outfit that much easier."
tszuji.co.uk also sells a huge range of shoe storage solutions, including the Rakku Shoe Wheel, stackable shoe boxes and shoe racks. The site also provides heel protectors and Foot Petal insoles.