New online vintage furniture and home accessories shop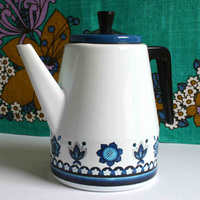 Winter's Moon is an online shop which stocks a quirky assortment of vintage, recycled or handmade furniture and home accessories.
At their Chichester studio, the owners of the company, Julia Grant and Rebecca Joy, repair, recover, restore and cleverly reinvent to create something delightful to be used and loved once again. While most of their trade is with one off pieces by designers who include Ercol, Peter Hall and Robin Day, they also sell shiny new things too. All are handmade by illustrators, knitters and sewing girls who enjoy leading the rebellion against the mass produced.
As an art director for a furniture company Julia was continuously sourcing products for photo shoots. Winter' s Moon evolved to meet the public demands for the props! They regularly hold open weekends which are advertised on their eponymous website.
For more information, visit wintersmoon.co.uk.