Raise a 'toast' to 50 years of the Rover's Return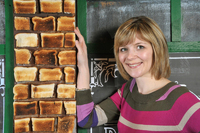 A life size recreation of Coronation Street's iconic Rover's Return pub, made entirely from Warburtons bakery products, has been unveiled to shoppers at The Trafford Centre in Manchester today. The artwork celebrates the launch of Warburtons official involvement in Coronation Street's 50th Anniversary, as a Best of British brand.

The 'doughlicious' Rover's Return was revealed by two of Corrie's current stars, Chris Gascoyne, who plays Peter Barlow and Jane Danson who plays Leanne Battersby. The sculpture was created by bread artist, Lennie Payne and will be on display today for passers-by to enjoy their very own 'slice of Corrie life'.

The tasty looking structure took 130 hours to complete and stands at 2.2 metres tall and 4.4 metres wide. It is made from 135 slices of Warburtons bread, 6 slices of Tiger loaf, 26 crumpets, and 24 pancakes. Everything, from the pub's legendary beer taps and stools, to the instantly recognisable green Rover's Return Inn sign, has been brought to 'loaf' using a wide selection of Warburtons packaging and products, including Warburtons Toastie, bread rolls, pancakes, crumpets and fruited loaves.

Artist, Lennie Payne, from Rainham, Essex, has been working with bread for over ten years. He says: "This is the biggest project I've ever undertaken and it's been great fun! The work has been extremely intricate – I've even toasted each slice of bread to just the right colour to imitate those infamous red bricks of the Rover's Return!"

Jane Sutton from Warburtons, promotional partner of Coronation's Streets 50th anniversary Best of British, comments: "It's fantastic to celebrate such a milestone in the history of Coronation Street - Britain's longest running soap. The Best of British Brands promotional activity is all about celebrating much loved family brands from the north of England, so we jumped at the chance to get involved!

"The Rover's Return is an iconic part of the show and some of the soap's most memorable moments have taken place there. We've brought that rich heritage to life in the best way we know how – with our passion for baking. The Trafford Centre has over 100,000 visitors a day so hopefully everyone will be able to pop down throughout the day to get a 'slice' of the action!"

If you don't get a chance to go down to the Trafford Centre today, the bread sculpture of the Rover's Return will be featured in Lennie Payne's London exhibition, scheduled for spring this year. The artwork will be sold with half of the proceeds going to one of the charities Coronation Street will be supporting during the anniversary year. See lenniepayne.com for more information.