Heritage Key launches virtual Stonehenge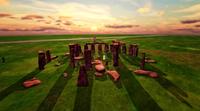 In the heart of the Wiltshire countryside stands the mysterious stone circle known as Stonehenge. Were these stones a royal burial site, a solar calendar or did they have a darker purpose?

You are now invited to travel back through thousands of years of British history to find out! Explore a highly detailed virtual recreation of the ancient site from the comfort of your own living room with Heritage Key, a new online community with an exciting, 3D online virtual experience that sends visitors way beyond the constraints of the flat web.

Let Salisbury plain fade away and find yourself at the heart of a dense forest in 2,400 BC, as the last of the huge megaliths is being locked into place. As the sun rises on the horizon and animals rustle through the undergrowth around you, watch Stonehenge impart the story of almost five thousand years of British history in one day. Speak to druids, warriors and the powerful leaders who lived and died around the monument. Learn about life in Bronze Age Britain and witness a modern-day Druidic ritual at the world-famous summer solstice festival.

Jonathan Himoff, CEO of Rezzable, commented: "Stonehenge raises just as many questions as it answers about life in prehistoric times, but if those stones could talk they would tell us the story of the last 5,000 years of British history. Heritage Key is bringing this story to life through our virtual experience, as well as the varied media resources available online to complement it".

Key features of the virtual experience include:

• Explore Stonehenge as it once stood over four thousand years ago in a dynamic living environment filled with wildlife and where the sun rises and sets
• Explore the nearby Neolithic settlement of Durrington Walls
• Interact with the people of the time and take part in an ancient sunset ritual
• Discuss your experience with other visitors in Heritage Key's virtual visitor centre

Himoff continues, "In reality, Stonehenge is now fenced off from the public to protect the site from over-tourism. Not only can Heritage Key's virtual experience allow you to wander amongst the stones, we can also take visitors back in time to when the site was first built. Heritage Key allows visitors to learn about the origins of the site, as well as the life and customs of the indigenous people, so that their experience of Stonehenge in the flesh can be even more magical."

This immersive adventure is complimented with a media-rich website. So, whether you want to step back in time and see Stonehenge, watch YouTube videos on your iPhone or post comments on the latest expert articles, Heritage Key lets you discover history the way you want to. As an interactive community, Heritage Key also allows visitors to join lectures and meet with people from around the world to share and discuss their experiences.

The Stonehenge virtual experience is being launched as part of Heritage Key's Ancient World in London festival, a series of online and real-world events celebrating the ancient world that is just underneath the skin of modern Britain. Participants can compete in challenges, competitions, quizzes, quests and discussions, whether online, in the real world or immersed in Heritage Key's virtual world. Register online now to start collecting points and earning your way towards the Grand Prize which will be announced at a final event in April: heritage-key.com/ancient-london

Meanwhile, Stonehenge is now open for the public to explore online at heritage-key.com.