What does your smile say about you?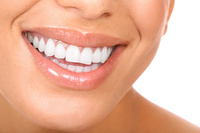 Whilst a whopping 93% of women smile just appear to be friendly, 50% of UK men use their smile to attract the opposite sex. So when smiling girls, think about what you are trying to say – as men may well be thinking that you have romance on your mind.

According to Judi James, one of the UK's leading body language experts, "Women tend to smile more than men for social approval which is probably why their smiles can be perceived as less reliable and more often as a flirt signal."

And when it comes to women smile preferences, Cheryl Cole has knocked Julia Roberts off of the top spot for the smile they would most like to have, according to a recent survey released by Juvederm ULTRA SMILE. Julia is now in second place with Angelina Jolie coming third.

For men, Will Smith, George Clooney and Brad Pitt are the top three preferences.

According to Judi James, our smiles reveal more about our characters than previously thought. Here is her analysis of our favourite celebrity smiles:

Cheryl Cole: the congruent, symmetric smile

Cheryl's a good example of the perfect congruent smile that ticks every box in terms of smile psychology. Her smile is evenly shaped and spread which would make it appear genuine. Her wide top and bottom lips aren't compromised by over-stretching; they retain their softened shape, which suggests warmth and sexuality. Her teeth are perfect, suggesting good health and her dimples add the irresistible factor. Dimples tend to have a child like appeal but also imply a person is a frequent smiler, suggesting a happy, calm and caring personality.

Julia Roberts: the pseudo-infantile, infectious smile

Julia's mouth has an extraordinarily beautiful lip shape with a very wide, upturned top lip. When she smiles her mouth stretches wide displaying top and bottom teeth but her top lip retains this bias, making it a smile that projects both sensuality and a childlike sense of excitement and happiness. It's the look of childlike spontaneity that makes this smile so infectious. It would be hard to look at it without smiling yourself.

Megan Fox: the circular pout

Like Marilyn Monroe, Megan seems to have perfect an 'O'-shaped mouth expression, forming a smile that includes parted lips with a semi-pout but without too much horizontal stretching. Her lips appear wide all the way round and she tends to accentuate this with deep-coloured lipstick. This makes it one of the most sexual smiles with an almost challenging display of teeth.

Angelina Jolie: the nurturing smile

Angelina has one of the most iconic pair of lips in the business: full and sensual with a perma-pout top lip. It's this 'kiss' lip expression that she's mainly known for, but when she smiles she engages in a whole different form of body language messaging. Although her smile retains a softened lip expression the top lip narrows while the bottom lip becomes more prominent and noticeable. This creates a smile that is less about sex and more about a nurturing sense of warmth and friendliness.

Victoria Beckham: the suppressed smile

Victoria is best known for her pouting mouth expression with rumours that she rarely if ever smiles. In fact her smile is quite sweet and childlike although she does tend to temper it by keeping her lips closed or her teeth clenched edge-to-edge, implying inner tensions. This suppressed smile can look like a short-fall gesture, as though she has the intention of smiling but without a spontaneous sense of real happiness. This closed-lip smile looks pretty but by keeping the top lip down she also creates muscle tension that thins the top lip. This makes her smile appear less balanced and more secretive.

Scarlet Johansson: the short-fall smile

Scarlet's famous red-carpet smile involves beautiful symmetry in terms of her display of equally wide upper and lower lip with the matching size of tooth display. Her equally full lips create a very youthful look and although the 'pinging' effect means she can virtually turn it on at will for the cameras without looking false. The very slight downturn at the corners of her mouth helps to prevent the smile looking too cheesy.

Will Smith: the colluding smile

Will's smile is irresistible: wide and symmetric but also slightly unfinished, implying he's sharing a joke with the viewer, rather than performing alone. The smile is vertically wide in the middle but not very stretched at the sides and it's the slight downturn at the corners of his mouth that implies he's asking you to join in the fun.

George Clooney: the pinging smile

This is one of the best pinging smiles in the business: you wait for it, he flashes it and the women go weak at the knees. He's known to bare his teeth but it's this suppressed, closed-lip look that is his most iconic. Although his mouth is shut it's that exaggerated upturn at the edges that implies he's clever, sexy and fun.

Brad Pitt: the boyish smile

Brad's smile will still be making him look like a teenager when he's well into middle age. The straight but soft top lip and dropped wider lower lip display both perfect upper teeth plus a whole raft of dimples. Strong dimpling in a man suggests an irresistibly cheeky and fun personality.

No matter what your smile 'type', lips are growing in importance in 2010, as expressed by Dr Rita Rakus who says: "I truly believe that when looking to enhance your smile it's important to think about your lips as well as your teeth. With proven anti-ageing benefits around plumper lips, I think more women and men will start considering lip plumping injectible treatments, like the newly launched Juvederm ULTRA SMILE."

For more information visit juvedermultra.co.uk.