Maxi Haulage takes delivery of five new Renault Midlums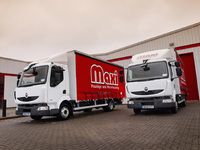 Ayrshire haulage company, Maxi Haulage, has taken delivery of five new Euro 5 Renault Midlum 180.08s, through Renault Trucks Midlands. All have curtainside bodies and are equipped with tuck under tail lifts. They are replacement vehicles which join a predominantly Volvo fleet of over 100 vehicles.
The Renault Midlums will be covering around 100,000 kms a year, transporting freight such as Volvo and Renault parts to Renault and Volvo dealers across the country. They will operate across the company's network of locations throughout the UK.
Jim McFarlane, Fleet Engineer, Maxi Haulage, says: "The Renault Midlums are welcome additions to our fleet. We bought a number of Renaults a couple of years ago and have found the Midlum to be a good, reliable, value for money vehicle. This is very important in our drive for cost reduction and improved efficiency so that we continue to provide our customers with a low cost, quality service. We have a good relationship with Renault Trucks and undertake the company's nationwide parts distribution."
Established in Irvine, Scotland in 1971, Maxi Haulage began transporting specialised freight throughout the UK and between Britainand Ireland. It is one of the largest privately owned distribution companies in the UK which has grown to become a multi-million pound business with an annual turnover in excess of £31 million. The company has a network of depots in Scotland, England, Wales and Ireland and specialises in multi-user distribution services, contract haulage and warehousing, together with parts and commercial vehicle delivery. Maxi Haulage is part of the Maxi Group which consists of three divisions, haulage, construction and property development and leisure.
For more information, visit maxihaulage.co.uk.