Biosphere Expeditions offers chance to join whale research project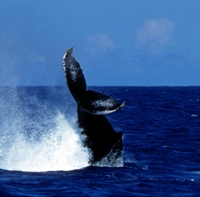 Biosphere Expeditions the award winning, not for profit conservation and research organisation is giving people the chance to work with one of the world's most iconic creatures – the whale.

You will travel to the Azores Archipelago in the middle of the Atlantic Ocean to become part of a research project studying whales, dolphins and loggerhead turtles.

The work you will undertake will involve photographing whales and dolphins, recording their vocalisations with a hydrophone and catching loggerhead turtles for tagging and release. All of this data will be used by local and international monitoring databases to enhance our understanding of these key species.

Individual whales can be identified by their flukes (tails) so you will also be involved in working out which individuals you have seen so that their movements around the globe can be tracked. This will help with research into the animal's life histories and migration patterns across the oceans and help formulate effective conservation programmes.

While on the project you will stay in modern guest house style accommodation and during the day work from a catamaran – no diving qualifications are required to take part.

Expeditions run between 3-12 April; 17-26 April & 1-10 May 2010. Costs are £1090 per person excluding travel to and from the Azores.
For more information visit: biosphere-expeditions.org