Fiat Professional launches comedy sitcom 'The Fleet'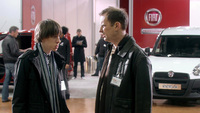 Fiat Professional embarks on a whole new approach to marketing this week with the launch of an exciting new campaign to promote its award-winning range of vehicles.
The commercial vehicle arm of Fiat Group Automobiles UK has commissioned the filming of a new sitcom, called The Fleet, which will get its first three minute airing in a special centre commercial break during News At Ten next Monday (15 March).
It will be the first episode of the comedy, with nine further 3-4 minute episodes planned for broadcast on the Internet. Support will come from digital advertising, press and radio and even a live performance at a special launch event today (11 March) at Stoke Place, Berkshire.
The campaign has come from a simple observation: while the van market has moved on in terms of its product, the same has not happened in communication.
"We needed a radical approach to marketing, in a sector that has been hit hard by the recession, is incredibly competitive and where we are a relatively small brand," says Gerry Clarke, director, Fiat Professional UK. "This is a completely new idea for us and it's particularly special that the first episode of The Fleet is broadcast during the news' centre break – currently News At Ten doesn't even have a centre break!"
The campaign is the brainchild of marketing specialist krow, which has been appointed to handle the £3.5 million Fiat Professional UK advertising account.
"We want to show we really understand our target market, and give ourselves the opportunity of starting a relationship with them," says Nick Hastings, creative director, krow. "So writing a comedy series about them felt like a good place to start.
"To make it really funny we hired two sensational writers, Ali Crockett and David Scott, and brought in Dominic Brigstocke to direct it. And then we added an amazing cast."
The sitcom follows the trials and tribulations of Pete – played by top comedy actor Phil Cornwell – the fleet manager of Lightfoot Logistics. The hilarious script cleverly carries a strong marketing message from Fiat Professional.