Customers inundate Myakka with plastic carrier bags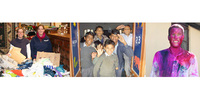 Myakka have been inundated with in excess of 5500 plastic carrier bags arriving over the past two weeks of Fair Trade Fortnight. The team are now busy posting out over 550 reusable jute shopping bags to supporters of their Fair Trade Fortnight 'Big Bag Swap' campaign. The large post sacks finally stopped arriving as Fair Trade Fortnight came to an end on 7th March.
"After a week and a half we were all starting to fear the arrival of the postie! We've been receiving at minimum a full sack a day, sometimes two or three, full of customer's packaged up plastic bags. We are delighted to have created a staggering 550 swaps for the 'The Big Swap' campaign and really thrilled that customers new and old have adopted our swap campaign," commented Georgie Hopkins - Director
The Fair Trade Foundation's campaign for Fair Trade Fortnight 2010 encouraged people to swap to fair trade products. Supporters were asked to register their swaps online, the target one million and one! At the time of writing the 'swap-o-meter' is just 68,000 swaps away from reaching this target.
As it's not that easy to swap your furniture for a fair trade option, Myakka encouraged customers to swap their plastic carrier bags for reusable, fair trade jute shopping bags. For every ten plastic bags sent in, Myakka sent customers a brand new, hard-wearing jute shopper completely free of charge.
"The number of plastic bags we received was incredible and it all coincided with one of our busiest times as our new Spring catalogue was circulated, launching our latest batch of brand new lines so the warehouse has been jam-packed. We literally had a van-full of plastic bags to take to the recycling centre!" commented Simon Whitehead – Director.
Last year, Myakka's team were part of the record breaking fair trade banana eating campaign which took place between 6th and 7th March 2009. Over 380,000 campaigners each ate a fair trade banana during the 24 hour period, smashing the previous record. With over 900,000 registered swaps this year's campaign has been an even bigger success proving that the nation wants a fairer deal for producers in the developing world.
During Fair Trade Fortnight Simon had a short trip to visit key suppliers and community projects that Myakka support in India. During the visit Simon delivered a donation of £5700 to the local charity-run SKSN School which provides education and care to physically challenged children. The money will be used to buy shoes, socks, medical supplies and food for the children and represents Myakka's continued support for the school. Since his return, Simon has also been receiving some bewildered looks as a result of his pink-purple glow! He happened to be visiting during Holi, the festival of colour, and was thoroughly decorated while celebrating with the SKSN crowd!
Given the success of the Big Bag Swap, Myakka have launched a competition for customers to submit images of their Myakka fair trade jute bags in the most exciting/exotic/unusual/interesting place possible. One lucky winner will be announced each month and will receive £50 Myakka vouchers. For more information, visit Myakka.co.uk.