Clinique tackles women's top skin concern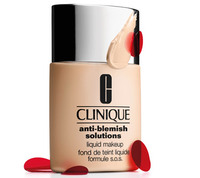 One of the most common and unanswered skin care concerns, blemishes, isn't simply a passing teenage problem.

With skin absorbing daily stress, environmental aggressors and managing hormones, blemishes are a major skin concern for women. In fact, in a recent UK survey among 500 women, blemishes were the number one skin concern.

Clinique's new Anti-Blemish Solutions Liquid Makeup promises to offer a clinically-proven, four pronged approach utilised in the brand's Anti-Blemish Solutions Clear Skin System products to conceal, treat and prevent blemishes:

1. Exfoliate. An active level of Salicylic Acid works as an exfoliant, promoting the sloughing away of dead skin cells which can accumulate in blemish prone skin, keeping the pores clear of cellular debris.

2. Controls Oil. Laminaria Sacharrina Extract, a sea algae, purifies and balances the skin. Helps regulate sebum production to reduce the buildup of oil in pores while maintaining a balanced moisture level.

3. Control Blemish Causing Agents. Hydroxydecanoic Acid is an ingredient that helps control the spread of blemishes causing agents across the skin's surface. The proliferation of these agents is often the cause of blemishes.

4. Ease Irritation. Caffeine helps to minimise irritation. It also helps to reduce the visible redness normally associated with blemishes while aiding to sooth and calm the skin.

The moderate coverage formula camouflages blemishes, neutralises visible skin redness and helps to conceal the appearance of pores. This lightweight, long-wearing foundation provides a refreshing cooling sensation upon application that blends easily and gently to not irritate already sensitive skin, while also working to actively treat blemishes. And, even when blemish-prone skin is at its best, Clinique say that continued use of Anti-Blemish Solutions Liquid Makeup helps to maintain moisture balance and oil-control to safeguard skin against future breakouts. The result is up to eight hours of a skin perfecting, beautiful natural finish that doesn't sacrifice on comfort.

Available in eight shades ranging from very fair to deep. RRP £20.00

Visit boots.com/Clinique from 19th March to buy, plus for the chance to enter Clinique's exclusive competition to win one of five Anti-Blemish Solutions sets worth over £100.

In addition, with any purchase of Anti-Blemish Liquid Makeup at Boots.com from 19th March - 1 April 2010, receive two deluxe Clinique treats free - High Impact Mascara 4g and Anti-Blemish Solutions Clearing Moisturizer 7ml.

* One per client, while stocks last.