Optimum set to turn heads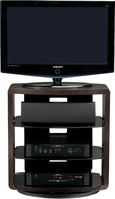 Optimum International is set to revolve AV furniture with the launch of its new Valera range designed by acclaimed US design studio BDI.
The Valera is the latest addition to the innovative BDI by Optimum range. This stylish, open stand is available in four different sizes, with three of the models (9721, 9723 and 9724) including a swivel base which can be set in one of three positions – revolving 360°, swiveling 30° or locked in place, which allows the screen to be easily positioned.
Practical design features of this functional furniture include built-in ventilation to keep AV components cool, removable back panel for easy equipment access and integrated cable management. With its scalloped design all models are corner friendly and feature an adjustable inner shelf.
Optimum's Managing Director John Ogden says, "Valera models are purpose designed AV stands, which are beautifully made to enhance any home theatre system. The thick panels limit the side view of the components and cables providing a semi-enclosed appearance."
He adds: "BDI continues to be known for its innovation in home theatre furniture design that seamlessly integrate technology into the home and the Valera is no exception."
All models are available in a choice of wood finishes, including Natural Stained Cherry, Espresso Stained Oak and Chocolate Stained Walnut finishes. The Valera's contemporary look offers a perfect fit for the living room, bedroom or home office.
For more information, visit optimuminternational.co.uk.