Triumph Live at Mallory Park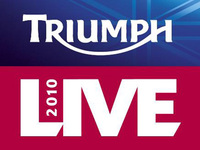 September 18th 2010 is one date that Triumph fans and all motorcycle enthusiasts need to put in their diaries, as the British manufacturer will be putting on an unmissable festival to celebrate 20 years since the successful re-launch of this iconic brand.

Riders of all marques are invited to enjoy a packed day of entertainment at the Mallory Park race circuit in Leicestershire, with additional activities scheduled to take place at Triumph's state of the art manufacturing facility nearby in Hinckley.
A full programme of on and off track activities will be laid on, with on track activities including a round of the 'Triumph Triple Challenge', special invitation races featuring Triumph's class-leading Street Triple and Daytona 675 motorcycles, plus mind blowing shows from Triumph's professional stunt riders.
Off-track, visitors will be able to view the latest range of Triumph motorcycles, together with a selection of some of the UK's best customised Triumphs. Key bikes from Triumph's history will also be on display, as part of a unique exhibition exploring 20 years of Hinckley.
On top of this, there will be a host of opportunities for visitors to ride the latest line up of bikes from Triumph's demonstration fleet, both on and off track, along with many other riding activities for visitors to enjoy.
Those looking to kit themselves out with top quality riding apparel will be in for a treat at the Triumph Clothing and Accessories Megastore, where there will be a host of bargains waiting to be snapped up, plus a first chance to purchase items from the 2010 Autumn/Winter clothing collection.
Triumph's state-of-the-art factory, situated eight miles from Mallory Park, will be open for event visitors to take a tour of the fascinating facility where Triumph's motorcycles are made.
The company has also promised a few exclusive surprises for fans making the trip to this special event and the party will carry on late into the night, with a full programme of live music planned.
Tickets for TRIUMPH LIVE are on sale now and are available online via triumph-live.co.uk – with an advance price of £24 (free for children under 16). Tickets can also be purchased via Mallory Park's booking hotline on 01455 842931.
Camping facilities at Mallory Park will also be available on a pre-booked basis.
Triumph's story is one of the major successes of British manufacturing in recent years. Following the bankruptcy of the Triumph Cooperative in 1983, rights to the name were bought by entrepreneur John Bloor. Mr Bloor, whose Bloor Holdings company is still the sole owner of Triumph Motorcycles Limited, developed an all-new range of bikes that were unveiled in September 1990 at the Cologne motorcycle show. From a six-model range and 2,000 sales in 1991, the company's range has grown to encompass 17 models, with around 50,000 sales each year across more than 31 countries.