Timber haulage company grows its Renault Fleet with new Lander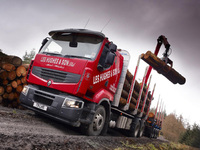 Specialist timber haulage company, Les Hughes & Son Ltd., has taken delivery of a new 6x4 Renault Lander rigid drawbar combination, through Renault Trucks Midlands. The company purchased a 6x4 Renault Lander tractor unit last year and is soon to take delivery of another Renault Lander rigid drawbar.
This is an important conquest deal for Renault Trucks, as Les Hughes & Son Ltd is replacing its fleet of Fodens, with the intention of standardising on one make again in the future. The Renault Lander will operate from the company's base in Newtown, Wales, transporting timber across Wales and the surrounding borders.
Tony Hughes, Director, Les Hughes & Son Ltd. says: "We've been looking at the Renault Premium Lander for a while now. We felt that it would be a good replacement for the Fodens. It's a good, honest, hardworking vehicle. We have been very pleased with the Renault Lander's performance to date, which is why we are strongly considering placing an order for more vehicles as we continue our replacement programme."
Established nearly 30 years ago, Les Hughes & Son Ltd is based in Newtown, Wales. It is an independent, family run business which specialises solely in timber haulage.