Maserati Grancabrio for Fernando Alonso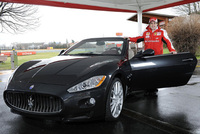 The two-times Formula 1 World Champion Fernando Alonso, driver of Scuderia Ferrari Marlboro, has "unveiled" in Fiorano the Maserati GranCabrio that he has selected.
The Spanish driver has chosen for his GranCabrio elegant fixtures, opting for a darker shade for the exterior in combination with two-tone upholstery for the interior. He chose Grigio Granito (granite grey) for the body, while the interior features a combination of Pearl Beige and Bordeaux leather, matching a soft top in the same Bordeaux shade.
The GranCabrio represents the very essence of Maserati in terms of open-top cars. It is a Maserati in the truest sense thanks to its unmistakable Pininfarina design. Every detail is a pure expression of Italian craftsmanship of the highest level and thanks to its 4.7 l V8 delivering 440 HP, coupled with a 6-speed ZF automatic transmission, it delivers real driving pleasure and top performance in its class.
Fernando Alonso was particularly impressed with the roominess offered by the GranCabrio, perfect for four adult passengers. The GranCabrio is in fact the first four-seater convertible in the history of Maserati.
To emphasise the link with the Maserati tradition, the roof of the GranCabrio is strictly canvas. Available in six colours, perfectly integrated into the design of the car, it folds up in only 20 seconds (28 seconds including the movement of the four independent windows).
The Maserati GranCabrio is now on sale throughout Europe, via the Maserati Dealer Network. The first right hand drive examples will reach the UK showrooms in April at a price of £95,510.