Chef Ferran Adrià of famed El Bulli heads for Singapore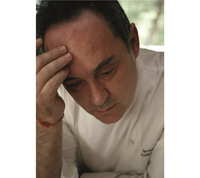 Spanish culinary superstar and three-star Michelin Chef Ferran Adrià will make his first visit to South East Asia to star in the 14th edition of the World Gourmet Summit in April.

Chef Adrià is arguably one of the greatest chefs of our time, and voted best chef in the world five times by Restaurant Magazine. Famed for his groundbreaking deconstructivist culinary style, which adopts the application of science to culinary practices, Chef Adrià has steered El Bulli to its world-renowned status as a gastronomic institution voted world's best restaurant by UK's Restaurant Magazine.

"I am so excited to be part of the World Gourmet Summit 2010 and to visit Singapore for the very first time. My impression of Singapore is that of a country which understands and appreciates great food. It has always been my dream to visit South East Asia and what better time than now during the renowned World Gourmet Summit," says the 47-year-old gourmet maestro.

Chef Adrià's visit to Singapore comes at an interesting point in his career. The chef has been recently appointed Spain´s brand ambassador and is featured in Spain's new international advertising campaign "I Need Spain" which debuted on 6 March. He will also participate in international visits with Spain Tourism Board, where the first stop will be in Singapore for the World Gourmet Summit.

The documentary "A Day at El Bulli" will be screened at the World Gourmet Summit on 22 April, which will also provide an opportunity for audience interaction with Chef Adrià. On 23 April, the chef will provide a fascinating insight into his latest techniques and the philosophy behind them. A press conference (to be announced) will also provide a platform for Chef Adrià to present a detailed overview of the future of El Bulli.

Citibank, as the presenting partner for the World Gourmet Summit 2010, will present its customers with special privileges, such as priority front-row seating at Chef Adrià's events. Its support of the World Gourmet Summit for the second consecutive year is a natural extension of Citibank Gourmet Pleasures, its credit cards dining privileges programme that offers Singapore's widest dining merchant selection and unrivalled dining deals at more than 1,000 locations.

From humble beginnings, Chef Adrià started his career in 1980 as a dishwasher at the Hotel Playafels in Castelldefels, Catalonia. He worked as a cook whilst performing his military service and at the age of 22 joined the kitchen staff of El Bulli as a line cook. A year and a half later he became the restaurant's head chef.

Earlier this year, Chef Adrià announced that El Bulli will close in 2012, and re-open in 2014 as a creativity think-tank. Its role will be to attract the best talent worldwide to continue pushing forward the limits of gastronomic creativity. At the World Gourmet Summit 2010, Chef Adrià will reveal details about his future plans, with two informative presentations focusing on El Bulli's past, present and future.