Emirates Park Towers hits new heights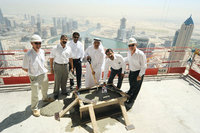 Construction of the AED 1.8 billion Emirates Park Towers development, a 1,612 room twin-tower hotel and apartment property, remains firmly on track, after the project reached a major milestone today.

To celebrate the continued progress of the construction programme, the development team hosted a 'topping out' ceremony to mark the casting of the final rooftop concrete.

Emirates Airline and Group will be ready to hand over the South Tower to Marriott International, the leading multi-brand hotel management company, as scheduled in May 2011. The adjoining North Tower will be handed over in 2013.

Once completed, the twin towers will stand at a neck-craning 365 metres tall, making them among the tallest single use hotel and residential apartment buildings in the world. The hotel complex has been designed by Archgroup International which has previously worked with Emirates Airline on other projects.

Commenting on the progress of the development, Ali Mubarak Al Soori, Executive Vice President, Chairman's Office, Facilities/Projects Management and P&L (NA) at Emirates, said: "Emirates Park Towers will be an iconic and dramatic addition to the ever-changing skyline of this exciting city."

He added: "The construction process has followed the very highest international standards and specifications. Despite the challenges the real estate sector faces following the recent global financial crisis, there will always be a demand for the very best quality space, in the best buildings in the best locations."

Currently being built on Sheikh Zayed Road, adjacent to Dubai's emerging Business Bay district and close to the Burj Khalifa, Emirates Park Towers is set to become one of the leading luxury business and tourist hotels in Dubai.

In May 2009, Emirates announced an agreement with Marriott who will operate one of its top-of-the-line JW Marriott Marquis luxury hotels on site, offering some of the largest guest rooms available in Dubai.

Facilities in the new hotel will include 18 food and beverage outlets, an extensive business centre, conference halls and meeting rooms, a banquet hall, a 3,700 square metre spa and health club – one of the largest in the region – as well as retail outlets, a swimming pool and a gymnasium.