IAM Drive & Survive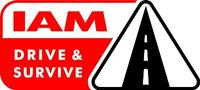 The IAM (Institute of Advanced Motorists) has announced the merger of its two commercial businesses, IAM Fleet and Drive & Survive. They will now trade under the new name IAM Drive & Survive. The news was announced yesterday at an official launch at Palmer Sport's motor circuit, Bedford Autodrome.
Prior to the re-brand, Drive & Survive and IAM Fleet were two of the most prominent occupational driver training organisations in the UK, owned and managed by the IAM, the UK's largest independent road safety charity. The decision to combine the two companies was made by newly appointed IAM Chief Executive Simon Best as part of an overall business strategy to ensure that all resources are more effectively channelled into offering one, comprehensive product range with the benefits of both companies.
Simon Best said: "In the past six months IAM and its commercial divisions have undergone a lot of positive change. IAM Drive & Survive offers a completely comprehensive range of driver risk assessment and driver training products, with both on-line and on-road driver training modules."
Guests - including journalists and clients - were introduced to the new brand and given the opportunity to get behind the wheel with IAM Drive & Survive trainers for taster sessions of some of the company's on-road training. Activities included ecolution, IAM Drive & Survive's fuel-saving and CO2 emission-reducing course, skid-control, and parking. Parking is a particular cause of concern for businesses, as statistics show that low-speed incidents result in substantial costs to fleet operations.
There were a number of speakers during the day, including Dr Graham Hole, a Senior Lecturer in Psychology at the University of Sussex. Dr Hole spoke about the dangers of in-car communication for those driving for work.
Dr Hole said: "With the advent of the latest generation of smartphones, computing has finally become truly mobile. The obvious temptation is to use these applications while driving. Many drivers regard their time spent driving as 'wasted' time, and this is perhaps especially true for those who are driving as part of their job.
"It is widely accepted that this is dangerous to the driver themselves, not to mention other road users. Employers have an obligation to society to ensure that their employees' working conditions are such that they can perform their jobs without recourse to using a phone while driving."
The day finished with a driving experience, where guests took to the track in a Porsche 911 JPE, and a sporty Renault Clio, in order to enjoy their driving in a controlled environment.
Mr Best continued: "We were delighted to share our new brand with everybody yesterday and communicate what a diverse range of driver risk management services we have. This signals a new dawn for the IAM commercial division, and we look forward to offering an improved service with our new brand."