Redrow introduces key players at Ninian Park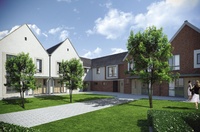 Two major players will be unveiled at Ninian Park, in Cardiff, this weekend (May 1st / 2nd) – a fully furnished show home and a second property which houses a 'gallery' of photographs and old artefacts found on the site.

Award winning developer Redrow Homes is hoping these two properties will prove to be a winning team in its redevelopment of the old Cardiff City football stadium.

After 99 years of hosting Cardiff City fixtures, the site of the old stadium off Sloper Road is now making way for a collection of 142 new homes.

Redrow's four-bedroom 'Fulbrook' show home has been designed, decorated and furnished by interior design company Intu, with a neutral scheme of caramels, metallic fabrics and tones of bronze. The overall impression is a warm, inviting and family orientated home with just a small 'nod' to the site's footballing history.

There is also a three-bedroom 'Eastry' view home that's been finished with flooring, light fittings and window dressings, and provides the backdrop for an exhibition of photographs detailing the demolition of the stadium and construction of the houses.

Also on display in the 'Eastry' is a collection of old bottles, jugs and pottery unearthed during the demolition process and pre-dating the football stadium.

Debby Pavitt, sales director for Redrow Homes (South Wales), said: "Ninian Park is no ordinary development and these are no ordinary show homes. They will provide an insight into our redevelopment of the stadium as well as demonstrating the quality and potential of our new homes.

"Inevitably there are some references to football within the show home but we have deliberately kept these very subtle and people will have to look hard to spot them. For example, we have used the theme of '4-4-2' in the arrangement of some of our accessories. There are also some elements of football incorporated into the mural in the boy's bedroom.

"Ultimately though, the aim of these show homes is to promote the development to everyone – football fan or not – so the homes are warm, inviting and designed to appeal to families, couples and individuals, who want a home close to Cardiff city centre."

Ninian Park is conveniently located less than two miles from the city centre, with excellent transport links and a good range of schools in the immediate area.

The development will feature a mix of two, three and four-bedroom homes, with current availability including three-bedroom detached houses from £189,995 and four-bedroom detached homes like the 'Fulbrook' show home from £224,995.

Contemporary looking exteriors open up to reveal bright, modern living spaces and statement-making kitchens and bathrooms. Family friendly features include convivial open plan kitchen / dining areas at the 'heart' of the home, ground floor cloakrooms and en-suites to master bedrooms. Quality kitchens boast floor to ceiling cabinets and top name built-in appliances.

The new 'Fulbrook' show home and 'Eastry' view home / gallery will be open from 10am on Saturday, May 1st.

An independent financial adviser will be on hand during the weekend to provide free, impartial mortgage advice and there will also be representatives from a local estate agent to arrange valuations for would-be customers who have an existing property. Redrow will consider part exchange on selected plots for those yet to sell.

For further information log on to redrow.co.uk.