Lexus title sponsor for Great British Bike Ride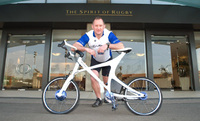 A leader in low emissions engine technology, Lexus is proud to be supporting the Great British Bike Ride and its ambition to raise huge sums for charity. Hundreds of cyclists are expected to sign up for the event which will see zero emissions pedal power taking them from Land's End to a finish line in front of the crowds at Twickenham, the home of English Rugby.
Running from 1 to 4 September, the ride will cover around 80 miles a day, with overnight stops hosted by local rugby clubs. Individuals and teams are welcome to take part and can opt to cycle the whole route, or a single day stage.
All will have a minimum sponsorship target to meet with moneys raised being shared between the charities Help for Heroes, the Rugby Players' Benevolent Fund and the RFU Injured Players Foundation. The event will be held annually and the organisers plan to bring in £1.5 million for good causes over the next five years.
As title sponsor, Lexus continues a long-running association with rugby that has included support for the Lexus Junior Rugby Festival and for Guinness Premiership team Harlequins.
Rugby legend Richard Hill MBE is the high-profile ambassador for the Great British Bike Ride. Launching Lexus's sponsorship at Twickenham he said: "The Great British Bike Ride is not a race, it's a great way of making new friends, sharing a wonderful sporting experience and raising money for some excellent good causes.
"With Lexus's generous support, we are able to organise an event with excellent support and assistance for all the riders taking part. It is anticipated that the reception by the Twickenham crowds will be fantastic."
Paul Marshall, Lexus General Manager Marketing and Strategy, said: "Lexus is all about the pursuit of perfection and we are pleased to offer our support to all those men and women who will be doing their utmost on two wheels to bring in funds for well-deserving charities."
Further information about the Great British Bike Ride, along with registration details, is available at greatbritishbikeride.com.