Flying high in Dubai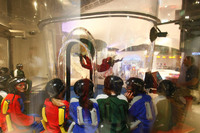 Thrill-seekers can now experience all the excitement and exhilaration of jumping out of a plane in the UAE's first public indoor skydiving centre, iFly Dubai from Majid Al Futtaim Leisure.

Witness the amazing skills of iFly instructors and see what you could do with practice as the experienced flight artists dance on air in wind tunnels powered by massive 400 horsepower fans – performing tricks and flips that will make your head spin.

In vertical wind towers made with state-of-the-art technology, participants can float lightly on a cushion of air or perform aerobatic twists and turns in winds reaching up to 200kph, making iFly Dubai the perfect destination for first-time flyers and extreme sports enthusiasts alike.

iFly Dubai can be enjoyed by all the family and children as young as five with no need for prior training in a highly controlled and instructor-supervised environment. High-tech equipment in the form of made-to-fit jumpsuits, goggles and helmets as well as specifically designed footwear ensures that the highest standards and comfort are met during your flight.

Furthermore, document one of the greatest experiences Dubai has to offer through a film or photograph of your choice.

iFly is located within Mirdif City Centre and is one of five exciting leisure experiences as part of Playnation from Majid Al Futtaim Leisure.