Perspective Magazine sponsors Shared Ownership Summit Dubai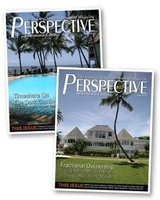 A special Shared Ownership Summit is being offered in association with this year's Arabian Hotel Investment Conference (AHIC), co-hosted by RCI on 1st May 2010, 1:00 – 5:30 p.m., at Madinat Jumeirah, Conference Centre, Dubai.

Perspective Magazine will be a sponsor of this essential forum for developers, investors and hospitality firms who are recognising the renewed importance of timeshare, fractional and private residence clubs as integral components of mixed-use developments.

"Perspective Magazine is playing a key role in the shared ownership industry by highlighting trends, opportunities and generally driving awareness of vacation ownership, fractional and private residence club models," says Jeff Tisdall, Managing Director, RCI Middle East and North Africa. "We are extremely appreciative of their continued support of both RCI and the upcoming Shared Ownership Summit in Dubai."

The Summit will offer real, executable solutions that fully leverage today's market conditions and will feature an unprecedented gathering of global and regional industry leaders. Participants can either register for the Summit directly, or upgrade their AHIC conference package to include the optional session.

"We are delighted to be a part of the Shared Ownership Summit," says Perspective CEO Paul Mattimoe. "Perspective Magazine is all about disseminating useful, important information to the shared-ownership industry, and that is exactly what this event will accomplish as well."

The Shared Ownership Summit will offer participants:

• The Perspective of Global Industry Leaders – Hear their views on the future direction of timeshare, fractional, private residence and destination club businesses.

• Market Opportunities – Today's new market conditions have significantly enhanced the prospects for shared ownership in MENA; find out why.

• Sales, Marketing and Operating Solutions – Hear everything from support in developing in-house capabilities to turnkey operating models designed for developers and asset managers.

• The Luxury Segment – Brand experts and leaders in branded residential will discuss future opportunities.

• The CEO Shared Ownership Handbook – An essential tool kit for senior business leaders.

• 2010 Shared Ownership Survey – NorthCourse, RCI's shared ownership consulting arm, will present its latest market research.

Registration fees are $500 for those attending the Shared Ownership Summit only, with a preferred rate of $350 for AHIC attendees.

To register for the Summit or for more information, visit registrationline.org.uk. Information on the Arabian Hotel Investment Conference is available at arabianconference.com.