New and improved classic Mini parts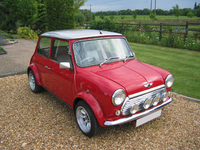 As demand for genuine Classic Mini parts grows, XPart is introducing a range of new and improved front and rear bumpers as well as bonnet bars for the much-loved British icon. The bonnet bars will be made from stainless steel using MG Rover original tooling, while the stainless steel bumpers will be manufactured using modern production methods in order to produce smoother ends and a cosmetically enhanced finish.
"Classic Mini maintenance and restoration is fundamental to keeping the cars in good condition as they continue to increase in value," comments Barry Smith, UK Sales Manager, XPart. "Our new front and rear bumpers and bonnet bars are being manufactured to the highest standards and offer a superior quality replacement for original equipment that may now be corroded and in need of replacing.
Fitting non-genuine bumpers can cause problems for owners, particularly in terms of their unfinished razor-like ends. They can also be difficult to fit, resulting in hours of additional labour. Non-genuine rear bumpers can often be the wrong width, and when fitted can foul the back panel and rear lights. Non-genuine front bumpers also pose difficulties as the holes are often in the wrong place and need to be filed out in order for them to locate properly."
With many original Minis now cherished and well maintained collectors' items, finding a reliable supply of vital service and wear parts can be a source of concern for the UK's 35,000 Classic Mini owners. XPart supplies a full range of popular service parts via its nationwide parts wholesaler and AutoService centre network, together with a comprehensive range of body and trim parts.
"With over 5,000 Classic Mini parts in our electronic parts catalogue, we are able to provide solid parts support to owners, helping them to keep their cars running for longer," continues Smith.
XPart will be represented at May's International Mini Meeting in Bavaria by South Lakeland Mini Centre, a Classic Mini specialist and XPart AutoService centre. With over 20 years' experience of servicing and repairing Minis, South Lakeland has particular expertise in restoration and engine rebuilds. The team will be on hand to answer any technical queries or parts enquiries and will be able to offer show discounts.
The XPart parts wholesaler network includes 110 members, spread evenly throughout the country. The company's AutoService centre network encompasses over 250 garages, including former MG Rover dealers, MG Motor dealers and a growing number of high quality independent garages. While MG Rover specialisation remains a core element of the XPart AutoService centre network, each garage has access to XPart's full catalogue of Classic Mini parts.
The new parts will be priced as follows: Mini bumper (DPB10166SLP) - £42.46, and Mini top bar (ALA6559MMM) - £16.96. For further information on XPart's AutoService centre network, or to locate your nearest parts wholesaler, please visit xpart.com.