Unipart Automotive on the move with Renault vans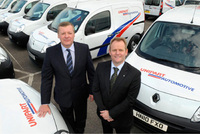 Unipart Automotive is taking the first deliveries of a 750-strong new fleet of Renault Kangoo Vans this week, after choosing Europe's best-selling compact van for its national car parts logistics service.
Unipart Automotive is part of Unipart, the UK's leading logistics provider and largest independent supplier of car parts, providing some of the best-known servicing brands across the country, as well as independent garages, and ensuring that they receive parts, products and consumables as quickly as possible.
Unipart Fleet Manager, Martyn Rees, was on hand at the company's headquarters in Cowley, Oxfordshire last week to see the first deliveries go out to the company drivers once the vans had been decaled and ply-lined.
He said, "When we came to select a van to answer our fleet needs, we assessed many options. Of these, the most important was whole life costs and Renault offered the most compelling combination of competitive running costs and fuel economy."
Darren Payne, Director, Fleet and Commercial Vehicle Operations at Renault UK, said: "Our van range offers a winning combination of practicality and reliability, plus respect for the environment through the Renault eco2 message. We're delighted that Unipart Automotive has chosen Kangoo for its fleet requirements and know that their staff will appreciate the van's comfort and ergonomics.
"The Kangoo Van, which has recently grown to include a third model, the long wheelbase Maxi, is simple to drive, easy to load and cheap to run, and combined with its French style and flair, makes it an obvious choice for those running large fleets."