New homes for families in Aberdare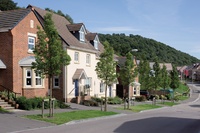 South Wales families could be chilling out in a stylish new Redrow home in Aberdare by the end of June - just in time to enjoy their new-found space at the start of the summer holidays.

Despite spring traditionally being considered the best season to move, some property experts believe June and July can be the perfect moving months as this time of the year causes less disruption, particularly to school-age children.

The four-bedroom homes currently available at Redrow's Three Oaks development in Aberdare will be ready to move into in June and those with an existing property to sell may be able to use the developer's part exchange service to move up quickly and easily.

"Early summer is the perfect time for a family to move into a new home for many reasons," said Luly Brice, area sales manager for Redrow Homes (South Wales).

"Children are winding down as the summer term comes to a close and families often have a little bit more time on their hands at this time of year. The idea of starting the summer holidays in a spacious, four-bedroom home, with a lovely garden, will undoubtedly be very appealing to many families.

"The long school holiday also gives children plenty of time to make friends with other youngsters in their new neighbourhood."

With current prices from £178,995 for a four-bedroom detached Lea with en-suite to master bedroom, Redrow anticipates lots of renewed interest in the development, located in the heart of the tranquil Rhondda Valley.

The Three Oaks development offers the best of both worlds, proximity to the amenities of Aberdare town centre, yet a window to the stunning scenery of the South Wales Valleys and close to the outstanding natural beauty of the Brecon Beacons.

There are also excellent road and rail links, with the A470 linking to the M4 and Cardiff.

To find out more, visit the marketing suite off Tir Founder Road, Aberdare.