Renault Kerax make quality replacements for Raymond Brown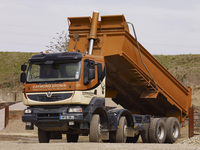 Raymond Brown Minerals and Recycling Ltd has taken delivery of four new 8x4 Renault Kerax 410.32 trucks, fitted with Abba tipping bodies. In an important conquest deal for Renault Trucks and Renault Trucks distributor, Sparks Commercials, they are the first Renaults to join the company's 43-strong, predominantly DAF, fleet of vehicles of which 24 are 8-wheel tippers. The new vehicles are to replace four of the company's existing tipper trucks.
The four new Kerax will be used primarily for Raymond Brown's core business of muck shifting and the removal of demolition materials from customers' sites to landfill or a recycling facility and also the bulk collection of aggregate from the company's own quarries before being sold on.
Graham Randall, Transport Manager for Raymond Brown, explains the company's decision to move to Renault: "We chose the Renault Kerax as a replacement vehicle as we feel that it is a vehicle designed and constructed to suit our business requirements, with good ground clearance when negotiating the difficult terrain of our quarries and landfill sites, at a realistic price. As we currently have predominantly one manufacturer on our fleet, it is quite a change
for us to purchase Renault. It was a significant choice that was not entered into lightly and is testament to the quality of the Renault Kerax."
Raymond Brown is an independent family business, established over 50 years ago. As well as Aggregates, Minerals and Recycling, the company also undertakes Civil Engineering, Building Construction and Property Development. With the Group Head Office based in Ringwood, Raymond Brown Minerals & Recycling Ltd. operates across Hampshire, Dorset, Wiltshire, Berkshire and West Sussex. The Group has an annual turnover of £66 million and has recently undergone a Management buyout by 10 of its Directors.