Ford's World Cup winner meets Focus RS500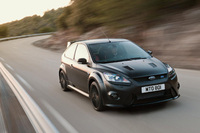 Leading the charge will be the victorious Ford Escort driven by Hannu Mikkola and Gunnar Palm in the 1970 London– Mexico rally. Starting from Wembley Stadium, where England won the 1966 World Cup, the race finished 16,000 gruelling miles later in Mexico City, host to the 1970 World Cup.
Now, as the England soccer team seeks to repeat 1966, Ford will be celebrating the 40th anniversary of the Escort's triumph by taking on the Festival's challenging 1.16 mile hill climb. The Escorts' success in 1970, taking 1st, 3rd, 5th, 6th and 8th places, led directly to Ford launching the highly successful and iconic Ford Escort Mexico.
Demonstrating the continued link between production vehicles and motorsport cars will be the new, limited-edition Ford Focus RS500. With a production run of just 500 examples across Europe, the high performance Focus RS500 features a 350PS upgraded engine and hand-applied matt black foil finish, and is a timely reminder of Ford's motorsport record.
In May, the Focus WRC of Jari-Matti Latvala and Miikka Anttila won Rally New Zealand providing the company with its 75th win and making Ford the most successful manufacturer in the history of FIA World Rally Championship.
Gerard Quinn, Ford's motorsport manager, said: "There is a direct customer benefit that results from motorsport development helping to advance production car engineering. This was evident from the early days of the Ford Escort and with the Focus WRC now in its final season it is appropriate that the lessons learnt have helped to create a new icon for the road in the shape of the Focus RS500."
Both the Escort and Focus RS500 will be driven by guest drivers throughout the Goodwood Festival of Speed taking place on 2 - 4 July 2010.