Get into the festival spirit with MAC Cosmetics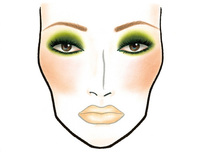 MAC Cosmetics and the MAC Pro Team decamped to the legendary Isle of Wight Festival to keep a host of top celebrities, performers and guests looking refreshed from dusk until dawn, and this year festival goers were able to make like a VIP and experience MAC in all its glory.

The MAC Pro Team were on hand to provide the ultimate festival makeup facilities for guests in the coveted IOW Festival Hospitality area. MAC Pro artists created dazzling looks for Florence Welch of band Florence and the Machines who opted for a deep burgundy lip created using MAC Lipstick in Diva, lined with MAC Lip Pencil in Burgundy. She also chose MAC's Paintpot in Groundwork to create a matte, light brown hue on the eye, keeping these key products to maintain her look for the rest of the day.

Model Erin O' Connor also visited the MAC tent twice throughout the weekend. On the Saturday she choose a dramatic winged out eye with a feline feel, created using MAC Pigment in Platinum, MAC Black Black Chromaline and to add extra length and volume to the upper and lower lashes several coats of MAC Zoom Lash Mascara was applied. On Sunday a playful tie-dye look was produced using MAC Pigment in Violet, Indigo Eye Pencil and eye shadows in Newly Minted and Electric Eel which were blown out across the eye. Extra drama was added by applying MAC #36 lashes. A pop of colour was added to the lips using MAC Cream Colour Base in Virgin Isle and Creamsheen Lipglass in Boy Bait to finish the look.

Marie Junior of The Brilliant Things chose a smokey eye with colour for an edgy play on this classic look. MAC eyeshadows in Club and Juxt were blended together and MAC Eye Kohl's in Tarnish and Smolder lined the upper and lower lash line. Drama was added to the eye with MAC #3 Lashes and a 'moonlit wetness' completed the look by pressing in MAC Pro Reflects in Teal. Lips were paired down using MAC Viva Glam II lipstick and MAC Clear Lipglass.

MAC Pro Artists were also called upon for some body-painting requests. Eye mask designs to the renowned Isle of Wight Peacock were painted freehand using MAC Pro Chromacakes in a variety of shades. MAC Pro Reflects Pigments were added to the finished creations taking them to another dimension, adding high shine and a magical sparkle.

All of the VIP's and Talent that visited the MAC area in hospitality requested lashes and the colour of choice for lips was red in myriad shades. MAC's Lady Danger, Russian Red and Ruby Woo were some of the most popular requests.

Makeup junkies were treated front of house too in MAC's inaugural retail site in the festival main arena. A 35 strong team of MAC artists conducted 500 thirty minute makeup appointments over the weekend - lashes were again the most popular choice!

If you like what they've done at the fabulous Isle of Wight festival, go along and visit MAC on site at V Festival at Hylands Park for round two!