Lesley Waters and Zoe Ball make spicy kebabs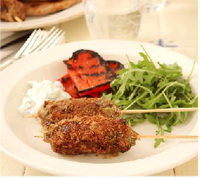 From picnics in the parks to barbecues in the back garden, one of the best things about summer is al fresco dining.

Celebrity TV Chef Lesley Waters had this in mind when she created a selection of summer recipes for Team Whole Grain. These tasty recipes are quick and simple, leaving plenty of time for the whole family to enjoy the sunshine.

Lesley says "Summer cooking is all about simple recipes and making the most of fresh ingredients. These recipes illustrate the versatility of whole grains and how easy it is to integrate them into the diet during the summer season".

In this video Lesley Waters is joined on Team Whole Grain by Zoe Ball as the pair make Spicy Shredded Wheat Kebabs.

These spiced kebabs are delicious for all the family – great to cook on the barbeque in summer or simply in a griddle pan. Serve with roasted red peppers, rocket salad and a quick creamy tzatziki dressing.

Preparation time: 20 minutes
Cooking time: 10 minutes
Serves: 6

Nutrition information per serving (based on using pork mince)

198 kcal (10% GDA)
9g fat (13% GDA)
3.2g saturates (16% GDA)
3.4g sugars (4% GDA)
0.2g salt (3% GDA)

Wholegrain servings: ½

Ingredients
450g lean minced pork, beef or lamb
75g Bitesize Shredded Wheat, finely crumbled
4 spring onions, finely sliced
1 garlic clove, crushed
25g fresh coriander, chopped
1 medium egg, beaten
3tbsp sweet chilli chutney
Spray olive oil

You will need 12 pre-soaked bamboo skewers

1. Place the minced pork, beef or lamb in a bowl.

2. Add 25g of the crushed Bitesize Shredded Wheat, onions, garlic, coriander and egg and mix together with your hands. Season well with black pepper.

3. Divide the mixture into 12 equal portions and shape each into a sausage approximately 4cm long. Push the skewers through the sausages, ensuring you mould them firmly onto the skewer and flatten lightly.

4. Brush each kebab on both sides with the sweet chilli chutney and roll in the remaining crushed Bitesize Shredded Wheat.

5. Place on a baking tray and spray lightly with olive oil. Chill until needed.

6. When ready to cook, place the kebabs in a griddle pan or on a barbecue over a low to medium heat for 8-10 minutes each side.

7. Serve with griddled pitta bread, roasted peppers from the barbecue, rocket salad and tzatziki dressing.

• For a quick tzatziki dressing, mix 250g low-fat natural yogurt, ½ cucumber, deseeded and grated, a small bunch of chopped mint and 1 crushed garlic clove. Season to taste and place in a serving bowl.

• Lesley likes to use her favourite chilli and tomato chutney with cumin seeds. However you could use a sweet chilli jam, tangy tomato chutney or even a mild spiced curry paste. There's no end to different flavours you can brush on these summer kebabs.