Up and away for Ischgl's first balloon festival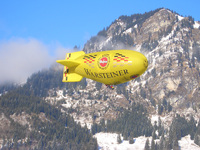 The vibrant Alpine village of Ischgl in the Austrian Tirol is hosting a spectacular three day balloon festival this summer.

Conventional hot air balloons and classic airships will take to the skies in a colourful display against the stunning backdrop of the Silvretta Mountains.

This is a first for Ischgl and is set to be a popular attraction with visitors to complement the summer activities of the Paznaun Valley, which include mountain biking, hiking, climbing, canyoning and white water rafting.

The three day festival - from Friday 20 August to Sunday 22nd - will feature 10 hot air balloons and airships, with tours setting off daily at 6.30am and 6.30pm. At 5 o'clock each day the balloons will be tethered with pilots on hand to answer technical questions and demonstrate their preparations for take-off and there will even be the chance for children to hop into the basket and fire up the burner - whilst being carefully supervised by the experts, of course. And on the first two evenings the balloons will have sunset flights.

Ischgl's Hot Air Balloon Festival is one of several high-energy activities in the village this summer, including the 16th annual Ironbike and the first-ever Iron Run.

The summer's action kicks off this weekend (June 25-26) with Art of Cart, a go-karting version of a grand prix. Teams from all over Europe will compete, including a UK team captained by Konrad Bartelski,Britain's highest achieving downhill skier.

For more gentle days, there are guided walks on mountain paths to take in the pilgrims' route of Jakobsweg where mountain huts offer traditional Tirolean dishes with a modern twist devised by top Michelin-starred chefs from around Europe, including Ischgl's very own Michelin chef, Martin Sieberer.

Visit paznaun-ischgl.com for more information.