Travelocity expands green hotel offering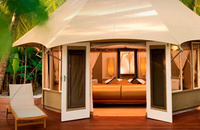 Is green going mainstream? Travelocity reports green hotel bookings in the first quarter were 65% higher than their non-green counterparts.

And now the company has formed a relationship with EC3 Global - the world's largest certifier of sustainable travel and tourism organizations - to show consumers sustainable hotels throughout Asia-Pacific .

In this era of eco-confusion, Travelocity works hard to highlight earth-friendly hotels across its site and guards against green-washing with its rigorous program. Unlike some travel sites, Travelocity does not accept "self-certified" hotels for the Green Hotel Directory.

"It's important that our eco-friendly leaf icon in the hotel shopping path is a symbol consumers can trust," says Alison Presley, manager of Travelocity's Travel for Good program. "There is no way to verify that a self-certified hotel is truly sustainable. And we know our consumers depend on us to hold the line against green-washing."

To date, Travelocity has flagged more than 1,900 hotels site-wide with the eco-friendly leaf and the company works with an elite group of certification programs. To have its hotels included in the Green Hotel Directory, a certification program must have a checklist that closely aligns with the Global Sustainable Tourism Criteria. The criteria was developed by the Tourism Sustainability Council, a global coalition of U.N. bodies, research and academic institutions, social and environmental NGOs, certification programs, and it offers a comprehensive picture of what it means to be sustainable.

Through EC3 Global Travelocity is able to flag hotels in destinations like Australia, New Zealand, Thailand, China, and more. Each of these properties has been audited by a qualified third-party professional who checks the effectiveness of sustainable practices applied. EC3 Global manages the EarthCheck Certification and Benchmarking Program, which is used by more than 1,000 organizations in over 60 countries.

It was designed specifically for sustainable travel and uses the latest science and technology. Travelocity doesn't just promote eco-friendly products - the company is also working hard to reduce its own footprint and to promote sustainability within the travel industry. The company's sustainability efforts start at home with its LEED-certified Silver headquarters. And to date, Travelocity and its customers have helped The Conservation Fund plant more than 21,000 trees across three national wildlife refuges that will trap an estimated 23,000 metric tons of CO2 over the life of those forests. The company is also a founding member of the Tourism Sustainability Council, which is working toward a more sustainable future for the industry.