London's ready to go electric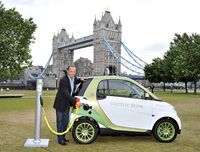 Today saw the first London consumers taking delivery of their smart fortwo electric drives, as part of the UK's biggest electric vehicle trial. Owners of Eco Age, an ethical store, design consultancy & green hub; Livia Firth and Nicola Giuggioli received the keys from motoring broadcaster and self-confessed electric vehicle fan, Quentin Willson.
Nicola Giuggioli, CEO at Eco Age; "For us, at Eco Age to be part of the smart electric drive trials is amazing and has such a great synergy with our business. The smart electric drive is the perfect city car, you can park it anywhere and it has zero-emissions so we can drive around guilt-free. I can't wait to see the face of our clients when we arrive for our eco surveys in our smart electric drive."
Quentin Wilson, motoring journalist and broadcaster comments: "The fact that Mercedes-Benz, the people who invented the car, say that the future of driving is with the advent of cars like the smart electric drive, is a monster milestone for electric vehicles."
Funded by the Government's Technology Strategy Board, the nationwide trial is the first of its kind with over 340 vehicles being trialled on the UK roads. The programme sees 60 smart electric drives exclusively tested by residents in London and the South East for 12 months. A further 40 will be trialled by residents in the West Midlands.
David Bott, Director of Innovation Programmes at the Technology Strategy Board said: "It's great to see the smart fortwo electric drive being handed over to the first drivers. This London based experiment is part of a much larger UK–wide trial funded by the Technology Strategy Board and the Department for Transport. Low carbon vehicles are being put into the hands of real drivers in eight different projects. Vehicle performance and user behaviour is being monitored by computers in over 340 cars and data from trials across the UK will be collated and published in an act of open innovation designed to support the development of Low Carbon Vehicle technology"
Boris Johnson, Mayor of London, said: "We are now on the brink of an exciting era of cleaner, greener electric motoring. London is already taking steps to ensure drivers in the capital will be able to embrace this new technology and plug in with confidence."
The handover coincides with the publication of the smart Plugged-In report, commissioned to understand the UK perceptions around electric vehicles. The report reveals that the London consumer is ready to embrace the electric revolution with about two-thirds of consumers stating that they're willing to consider an electric vehicle if the charging infrastructure is improved. Other key report findings reveal:
86% of Londoners think it is their community's responsibility to make sure residents living there can live 'greener' lives with easier local recycling facilities, electric vehicle charging points and cycle lanes.
66% of Londoners think the area where they live would be less polluted if there were more electric cars
71% of Londoner's admitted they make a conscious effort to drive less in order to save money (asked of drivers)
Londoners are the most vocal to their council about how they can improve the area where they live. 33% of Londoners claim to have made improvement suggestions to their council (compared with a UK average of 24%)