David Taylor named Isuzu Dealer of the Year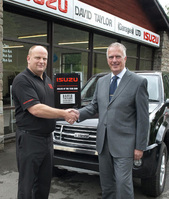 Welsh dealership, David Taylor Isuzu, of Crickhowell, has been awarded the title of 'Isuzu Dealer of the Year' – for the third time in succession.
The prestigious accolade is presented to the business that sells the most vehicles over the course of the year in the UK. An Isuzu dealer since 1988, David Taylor has sold over 1,000 vehicles for the Japanese firm in that time and continues to do extremely well today. This success is borne out of great service, a true understanding of the product and of the local customer base, according to Dealer Principal, Gene Taylor.
He said: "In the Rodeo, Isuzu offers a strong and versatile product, which acts as the perfect utility vehicle for the rugged terrain we have here in Wales. The strength of the product and the Isuzu brand has allowed us to build up a fantastic customer base, in a predominantly agricultural community."
Taylor continued: "We are on track to win the Isuzu Dealer of the Year award for the third year running, which recognises not only our customer's loyalty to the brand but also our strong relationship with Isuzu UK."
Marketing Director of Isuzu UK, Kenyon Neads, added: "We are delighted to recognise one of our longest-standing dealerships with such an exclusive award. The team at David Taylor Isuzu have established a solid working relationship with their customers and continue to offer local buyers a robust vehicle with class-leading towing capabilities in the form of the Rodeo."
The Rodeo range starts at just £12,149.00 CVOTR for the 2.5-litre single cab 4x2 and rises to £21,999.00 CVOTR for the top-of-the-range 3.0-litre double cab Rodeo LE automatic.
Visit davidtaylorgarages.co.uk for further details.