NHBC award for Taylor Wimpey in Ruislip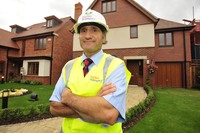 Senior Site Manager at the leading housebuilder's Sandringham Gate development of houses for sale in Ruislip clinches another NHBC gong.

Taylor Wimpey Senior Site Manager Phil Cataffo has been recognised with a national award for his hard work at the leading housebuilder's Sandringham Gate development of property for sale in Ruislip, Middlesex.

It is the sixth time Phil has received the National House-Building Council's (NHBC) prestigious Pride in the Job Quality Award in his 14-year career with Taylor Wimpey.

The award is a tribute to the hard work Phil has put into co-ordinating construction and customer satisfaction at Sandringham Gate, and is confirmation of the high standard of craftsmanship which goes into this exclusive collection of new homes in Ruislip.

"Although I have now won this award six times, the feeling of pride stays the same," says the 51-year-old father-of-two, from Eastleigh, Hampshire.

"The award confirms the high standards of workmanship, our good relationships with suppliers and those we work with in the building trade and for how well we work as a team.

"My name may be on the award, but everyone involved in Sandringham Gate has helped make it possible."

Phil's organisational and management skills on site are second to none, and that's down to the fact he knows exactly how tradespeople think.

"I started working for this company in 1996 as a bricklayer, so although I am a manager, I have that insight into how people operate on site," says Phil.

"I think that helps to get the very best out of our people."

And with up to 30 different tradespeople working at Sandringham Gate every day, it's Phil's responsibility to make sure everything runs like clockwork.

"I am managing the site by myself, and don't have an assistant," he says.

"It's always very, very busy, and sometimes you get a spanner thrown into the works – so to speak – and I have to find a solution.

"But that's something I really enjoy, turning the unexpected into opportunities for success, and seeing the end result of a beautiful new home which the customer is thrilled with.

"And although I find the daily commute from Eastleigh can be a long one, as soon as I get on site it's worth it, because I love my job."

Phil now goes forward to compete in the NHBC's Seal of Excellence Awards this autumn – an accolade he has won twice before, along with a string of awards from Taylor Wimpey.

Andrew Sturla, managing director for Taylor Wimpey West London, says: "This recognition of Phil's efforts is an outstanding achievement, not only for him, but for all who have supported Phil at Sandringham Gate. This award is richly deserved and I thank Phil for his dedication."

Phil and his team are building a luxurious range of four, five and six-bedroom houses at Sandringham Gate.

The select new gated community comprises an outstanding portfolio of just 23 executive homes, with prices starting at £585,000.

Properties at Sandringham Gate are thoughtfully laid out within a tree-lined avenue in landscaped gated grounds just a short walk from the centre of Ruislip village.

The superb array of local shops include a Marks & Spencer, a Waitrose, health and fine foods stores, a patisserie and a fruiterer, while a wider choice of outlets can be found at The Chimes Shopping Centre in nearby Uxbridge.

Excellent pubs, restaurants and bars are also within walking distance, the well-equipped High Grove Gym and Ruislip Golf Club are just around the corner, while the tranquil parkland of Ruislip Common, Park Wood and Ruislip Lido are also within easy reach.

The Sales Information Centre and showhomes are located off Eastcote Road, Ruislip, HA4 8DH, and are open seven days a week, 10.30am to 5.30pm.