Blueberry Compote – Super healthy, super delicious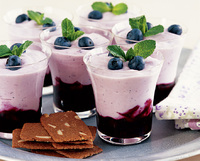 According to Botanists, Blueberries have been around for more than 13,000 years. Although it is the recent rise of the 'superfood' that has seen this fruit really come into its own.

Bursting with vitamin C and antioxidants, Blueberries are the perfect ingredient for a guilt-free delicious dessert.

So why not try the Blueberry Compote from waitrose.com? This fruity layered pudding is really simple to prepare, and scores top marks when it comes to taste.

Blueberry Compote with Vanilla Custard Topping
Serves: 6

Ingredients
300g blueberries, washed
1 tbsp caster sugar
Grated zest of 1 unwaxed lemon and juice of ½ lemon
3 x 150g pots Waitrose Wild Blueberry Yogurt Dessert
½ x 500g tub Waitrose Perfectly Balanced Vanilla Custard
200g pot Waitrose Natural Fromage Frais
½ x 25g pack fresh mint, to serve

Method
Keep aside a handful of blueberries for decoration, then place the remainder in a small pan with the caster sugar and lemon juice to make a compote. Bring to the boil, then reduce the heat and simmer for 3-4 minutes until the berries start to burst and release their juice. Remove from the heat and cool completely.

Place the blueberry yogurt desserts, custard, fromage frais and lemon zest in a bowl and stir to combine.

Spoon the cooled blueberry compote into the bottom of 6 glasses, then top with the custard mixture. Chill for 30 minutes or until ready to serve.

Before serving, decorate with the reserved blueberries and a sprig of mint. Serve immediately with almond thin biscuits.

Tips:

Prepare the compote the day before and refrigerate until needed. For a more indulgent version, replace the lemon juice with 1-2 tablespoons of crème de cassis.