First Renault trucks join Wynnstay fleet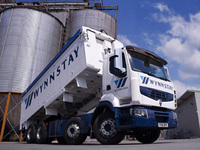 Agricultural retailer and crop marketing company, Wynnstay, has taken delivery of three new Renault Premium Lander rigids, fitted with bulk blowing bodies, through Renault Trucks distributor Border Trucks. The 8x4 Renault Lander 410.32; 8x4 Renault Lander 370.32 and 6x4 Renault Lander 320.26 are the first Renaults to join the company's 69 strong, predominantly DAF and MAN fleet.
The new vehicles will be based at the company's depots in Carmarthen and Anglesey and its head office in Llansantffraid. They will be used to deliver bulk animal feed to farms throughout Wales and into Shropshire, Staffordshire and the Welsh borders.
Zak Edwards, Logistics Manager, Wynnstay, says: "We have previously purchased DAF and MAN but were attracted to the Renault Lander by the amount of truck you get for your money. The Renault Lander has a number of advantages, one of which is its compact chassis. This suits our application as it offers excellent maneouvrability in locations with limited access, such as the farms we deliver to. Our drivers have found the Renault Lander to be a good choice for tackling the combination of main roads, rural roads, farms and agricultural sites that we use every day. The Renault Trucks warranty is also reassuring and we are extremely pleased with our choice so far."
Founded in 1918, The Wynnstay Group is based in Llansantffraid, Wales. The company manufactures and supplies agricultural products and services for farmers across the UK. The Group has 43 outlets across the West Midlands, Wales and the North West of England, including 28 Wynnstay stores and 15 Just for Pets stores. Wynnstay stores carry a portfolio of products, catering for the needs of farmers, pet owners, horse owners and rural dwellers.