Renault Trucks network grows with RH Commercials new site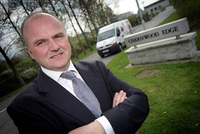 Nottingham based RH Commercial Vehicles has extended its Renault Trucks franchise with the opening of a second site in Cossington, Leicester. The 8,000 square foot site will operate as a full Renault Trucks R1 Repairer to the company's main dealership in Nottingham, offering repair, maintenance and vehicle parts supply.
RH Commercial Vehicles is ideally placed for expansion having invested £130,000 in improving its Nottingham site last year following its appointment to the Renault Trucks Fast & Pro van sales and service network. It is the company's first expansion outside of Nottingham and has resulted in the creation of 10 jobs.
Nigel Baxter, Dealer Principal, RH Commercial Vehicles, says: "The expansion into Leicester makes perfect sense as part of our strategic growth plans with Renault Trucks. We have been looking for some time for another site where we can expand our services to a wider audience. We will be providing the same high quality and professional service that our reputation has been built upon as a Renault Trucks dealership at our main Nottingham site."
Derek Brinklow, Network Development Manager, Renault Trucks UK, says: "We are delighted with the opening of the RH Commercial Vehicles site in Leicester which is a strategic development in Renault Trucks UK's ongoing plans to optimise network coverage in support of our current and prospective customer base. The opening of the site in this key location will greatly enhance our network coverage in the Midlands and the UK as a whole. It further cements our relationship with RH Commercial Vehicles which has been a longstanding partner from its current site in Nottingham."
Formed in 1977, RH Commercial Vehicles has been a Renault Trucks dealer since 1986. The company is part of the RH Group, established almost 40 years ago, which operates the UK's largest European road freight network and has positioned itself as one of the market leaders for International freight in the UK.