Vauxhall Fashion Scout - Eudon Choi Merit Award winner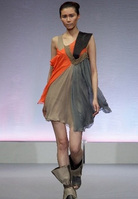 Vauxhall Fashion Scout, London's largest showcase of innovative fashion designers, is delighted to announce Eudon Choi as the Merit Award Winner for Spring Summer 11.
The widely acclaimed Merit Award is chosen by a panel of industry experts and gives the winner a fully sponsored catwalk show and exhibition space at Vauxhall Fashion Scout during London and Paris Fashion Weeks.
Eudon first hit the headlines last season at Vauxhall Fashion Scout's group show, Ones To Watch, which saw the RCA graduate rise to critical acclaim and gain countless column inches. Dover Street Market snapped up his graduate MA collection, and he now counts Lusia Via Roma Italy, Harvey Nichols Hong Kong, Harvey Nichols Dubai, Debut New York and Young British Designers as key stockists.
"I am incredibly excited to win the Merit Award. Being given the opportunity to do a solo show during London Fashion Week, with my second full collection, is more than I could have dreamed of. The help and support of Vauxhall Fashion Scout last year with Ones To Watch has been instrumental in moving my label forward and I know that the Merit Award will bring me even greater exposure. I am incredibly grateful to the judging panel for having faith in me and my creative vision."
Eudon Choi
Eudon Choi previously worked as senior designer at Twenty8Twelve before launching his own label in 2009. His win follows in the footsteps of past Merit Award winners Hermione de Paula, William Tempest and David Koma; who is now the proud recipient of this year's New Gen catwalk show award.
"The Merit Award has been instrumental in launching the careers of some of the hottest new designers and showcasing their talents to an international audience of leading press and buyers. We are delighted that Eudon is our fourth Merit Award winner and are greatly impressed by his vision and professionalism."
Martyn Roberts, Director, Vauxhall Fashion Scout
The winner of the highly coveted, three-season Merit Award is given the opportunity to showcase their collection at a high profile fully sponsored show during London Fashion Week. The award also offers the winner access to a specialised mentoring programme throughout the year to help them grow and develop a successful, sustainable business.