Goodwood to pay tribute to motor racing legends at Revival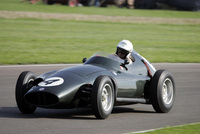 In just seven week's time Goodwood will be marking the important contribution that two British legends have made to the sport of motor racing over the decades when it pays tribute to multiple World Champion John Surtees and the celebrated British Racing Motors (BRM) marque at the 2010 Goodwood Revival (17-19 September).
The Goodwood Motor Circuit has played a significant role in the careers of both racing driver John Surtees and BRM (for which Surtees drove), so it is entirely fitting that their achievements are celebrated with special track parades at the 2010 Revival to mark two important anniversaries.
50 Years Since John Surtees' First Car Race
Already a multiple World Champion on two wheels, it was 50 years ago this year, in March 1960, that John Surtees began his switch to four wheels, entering a Formula Junior race at Goodwood and finishing a close second to Jim Clark.
Within a matter of months, Surtees had scored his first pole position and podium finish in Formula One, and in 1964 he became F1 World Champion. His achievement in winning World Championships on both two wheels and four remains unmatched to this day. Add victory in the inaugural CanAm championship in 1966, and a spell as a team owner, and his is a career whose achievements will perhaps forever remain unique.
At the 2010 Revival Goodwood will pay tribute to John Surtees, with a gathering of the landmark cars and bikes that shaped his unparalleled career, as well a number of drivers and riders that he competed with and against.
Amongst the 25+ ex-Surtees cars and motorcycles forming part of an impressive grid will be his 1949 Vincent Black Shadow, 1952 Comet 500, 1960 Cooper-BMC T52, 1964 Ferrari 158 and 1973 Surtees-Hart TS15.
60 Years Since BRM's First Race Victory
On September 30th 1950, the fledgling British Racing Motors (BRM) scored its very first victory, here at Goodwood, when Reg Parnell triumphed in the Woodcote Cup. From then until 1977, when its doors closed permanently, BRM enjoyed a career which, perhaps more than any manufacturer before or since, was epitomised by glorious highs (17 Grand Prix victories and both World Championships in 1962) and ignominious lows (the calamitous failure of the much-heralded V16, and the team's eventual demise), but which never failed to capture the public's imagination.
This year's Revival celebrates 60 years since that first win at Goodwood, with the world's largest ever gathering of BRM cars. With up to 40 of the known 53 BRMs still in existence on the grid at Goodwood, highlights will include the infamous BRM V16 MK 1 of 1950, the 1953 V16 P30 MK 2, Type 25, P48, P261, P153 and the final P207 of 1977.
To order advance tickets for the Goodwood Revival, visit goodwood.com.