Chrysler commits to Motor Codes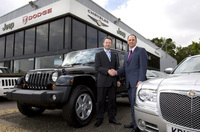 Chrysler UK Ltd has launched a nationwide scheme that will enhance the company's transparency, helping it to demonstrate, market and manage its commitment to first class customer service.
In an industry first, Chrysler joins forces with industry regulator Motor Codes to survey customers using its service and repair garages. Adopting the government-backed 'Code Survey' will enable Chrysler's customer service team to monitor and raise standards at each of its 84 authorised UK dealers from a central management suite provided by Motor Codes.
"Offering our customers an open and transparent survey with the added authority of Motor Codes will provide even greater peace of mind and allows each of our dealers to publically demonstrate their high standards on the Motor Codes website," said Metin Tahsin, Customer Relationship Manager at Chrysler UK Ltd. "The easy to use management suite enables us to monitor quality and to identify areas for improvement while providing our garages with a persuasive marketing tool."
Chrysler's adoption of the Code Survey as its nationwide gauge of quality is an industry first that is set to further the brand's reputation with its loyal and new customers. The Motor Codes survey was put in place to continually drive up standards across the service and repair industry in accordance with the 'ConsumerCode Approval Scheme' operated by the Office of Fair Trading.
"Chrysler's move to adopt the Code survey is an important step forward in the rapid development of Motor Codes and the standards it maintains across the service and repair sector," said Chris Mason, Motor Codes director. "The thorough nature of the survey and its ease of management attracted Chrysler to use it nationwide and it's certainly going to open the eyes of other manufacturers that hold customer service standards in high regard."
The new initiative launches to the Chrysler network today and will see customers contacted via email to complete the online survey following service and repair work. Dealers will see a live 'satisfaction score' appear on their Motor Codes profile page that customers will find when using the Code's 'Garage Finder' tool.
For more information about Chrysler and its product range, please visit chrysler.co.uk.