Denmark's Eastern Jutland - A pristine playground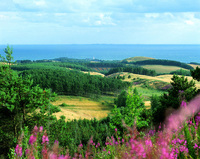 Situated in the eastern corner of Jutland and surrounded by sea in three directions, Djursland is renowned for its wonderful natural diversity and extensive array of family friendly attractions, making it a pristine playground for young and old alike.

Sporting over 150km of white, sandy beach with inviting shallow waters, open heath, rolling farmland, dense forest and picturesque lakes, the countryside is ideal for exploring by foot, bicycle, horse or canoe. There is a great selection of well established walking routes and cycling tracks, such as the stunning Nordsøstien Path through small coastal villages along the North Sea Trail.

Home to Denmark's second National Park Mols Bjerge with its stunning hilly landscapes stretching down to the sea, nature's other highlights include the rocky coastline of the Ice Age worn Helgenæs peninsula; Kolindsund – an area rich in bird life with numerous canals and one of the largest lakes in Jutland; and the steep calcareous cliffs of the Northern coast - Klinterne ved Gjerrild and Karlby og Sangstrup – where you can find fossilised sea urchins, belemnites and, if you are lucky, shark's teeth.

With numerous beaches to choose from, holidaymakers can opt for one of the many EU's Blue Flag awarded spots such as the popular Grenaa Strand (which was recently voted the best beach in Jutland) or more adventurously for the coves of Ebeltoft and Kalø to check out the surf, carve a few waves or head underwater to discover some of the area's best dive sites.

For more watery fun, Denmark's largest water park Djurs Sommerland has over 60 daredevil rides including the country's largest and fastest rollercoaster reaching 'splashtastic' speeds of 90km/hour. Exhilarating encounters can also be had at the Kattegatcentret where you can 'Discover Scuba Diving' and take a dip in the attraction's Oceanarium with rays, two metre long sharks and other exotic creatures from the deep.

Avid landlubbers, who prefer a walk on the wild side, can visit Randers Rainforest, an enormous indoor tropical safari featuring each of the world's rainforest regions. With 450 kinds of plant and 200 different animals, many of which live freely, kids can get up close and personal with monkeys, iguanas, bats and parrots. Or for animal magic a little closer to home, the Scandinavian Animal Park features over 20 different Nordic species including bears, wolves, arctic fox, moose and deer with more European natives found at the Ree Park – Ebeltoft Safari alongside savannah roaming cheetahs and African wild dogs.

With ancient buildings and picturesque towns, Djursland's historical attractions provide a fascinating insight into the region's development. Step back to 3300BC to sunrise at Porskær Stenhus - Denmark's largest 'Stonehenge' monument; soak up the past's royal grandeur at the magnificently maintained castles of Rosenholm Slot, Gammel Estrup, Clausholm Slot and the gardens at Det Jydske Haveselskab. Wander through the quaint village of Ebeltoft exploring the town's museum which is housed in Denmark's' smallest town hall, old dye works, Helgenæs Vicarage and former classroom.

For a complete immersion in 'days gone by', take a trip to Denmark's second largest city -Aarhus, to its award-winning 5 star attraction Den Gamle By ('The Old Town'). Providing an interactive snapshot into the time of Hans Christian Andersen, this 'living museum' comprises 75 period buildings serviced by costumed staff that go about their everyday life as they would have done a hundred years ago.

Other slices of history can be had at the Danish Agricultural Museum, which showcases the nation's largest collection of agricultural tools and machinery alongside traditional breeds of farm animals that children can play with; onboard the Fregatten Jylland – the longest wooden ship in the world; inside the Djurslands Museum & Dansk Fiskerimuseum - a picturesque Merchant's house containing intriguing artefacts including pottery, clothing, the largest ancient coin discovery from Kirial and items from the fishing industry; and at the Glasmuseet Ebeltoft, a world class glassworks and museum which houses a renowned collection of international and contemporary pieces and is the perfect place to see the resident glassblowers create stunning artworks in front of your eyes.

For those who enjoy the flexibility of self-catering, Djursland offers an excellent range well-equipped campsites and beach house properties. Camping options range from simple tent pitches to cosy, comfortable cabins and en-suite chalets, with accommodation to suit every taste and budget. For example, stay right on the beach at Grenaa Strand Camping with easy access to all the attractions from as little as £7.65(DK68)/adult/night in a tent with standard cabins sleeping up to six people from £55.50(DK495)/night. Novasol has a large choice of houses and, with the Danish school holidays following a slightly different pattern those in the UK, it's possible to make significant savings during this otherwise peak period, when prices in many other European destinations can be sky high. For example a very comfortable, well-appointed house sleeping eight, just 300 metres from the beach, costs from £1,199 per week during the peak season in July but if travelling after 28 August the price drops to £780 per week – representing a saving of £419 on the peak-season price.

Getting there:
Ideal for a self-drive holiday, the best way to experience the area is to arrive by ferry with DFDS Seaways (dfdsseaways.co.uk). They offer a regular service of departures every other day between Harwich and Esbjerg, during June, July and August and crossings three times a week between September and May. DFDS Seaways has fares from Harwich to Esbjerg from £232 for two people + car + caravan one-way (caravans go free on Sunday & selected Mondays for bookings made 30 days in advance). Djursland is approximately two and a half hours easy drive from Esbjerg with many good attractions to explore on the way.

For additional information on the region, see visitdjursland.com or for more details on Denmark log on to visitdenmark.com.